Cèilidh Weekend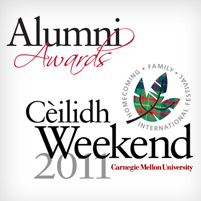 The inventor of Hulu.com. A world-renowned cancer researcher. The production designer for the "Spider Man" trilogy.  A decorated Naval officer. And a Grammy Award-winning musician.

Carnegie Mellon's Alumni Association will honor these and 11 other distinguished individuals during the university's inaugural Cèilidh Weekend, Oct. 27-30.

This new fall event combines the university's Homecoming, Family Weekend and International Festival into one celebration.

The Scottish Gaelic word Cèilidh represents a traditional social gathering and pays tribute to the heritage of CMU founder Andrew Carnegie.

Receiving Alumni Distinguished Achievement awards are:

M. Dale Clevenger (A'62), three-time Grammy Award-winning virtuoso of the French horn and a sought-after soloist and conductor for symphonic, chamber music and jazz performances around the globe.

Hillard M. Lazarus (E'70), an internationally renowned hematologist and oncologist. This professor of medicine at Case Western Reserve University is a member of the American Cancer Society's Cancer Care Hall of Fame and a recipient of the organization's Lifetime Achievement Award.

Receiving Alumni Achievement awards are:

Nikhil Balram (E'86, '88, '92), entrepreneurial engineer who played an instrumental role in bringing movie-theater quality video to consumers' homes. He currently is president and CEO of Ricoh Innovation Inc.

Daniel M. Fawcett (TPR'88), president of digital media for Fox Entertainment Group. Fawcett revolutionized the entertainment industry with the creation of Hulu.com, a free-online service offering streaming video of television programs and movies.

Paul Jacob III (A'71), architect and retired chairman of RTKL Associates Inc. Jacob has helped to redefine American cities and suburban shopping centers.

Rajeev K. Mehta (TPR'92), with an unmatched commitment to customer service, has helped Cognizant Technology Solutions Inc. grow from a startup to a global, multi-billion-dollar provider of information technology, consulting and business process outsourcing services.

Neil J. Spisak (A'78), a top Hollywood production designer, has for more than 30 years supervised hundreds of people, managed budgets worth millions of dollars and made time to mentor School of Drama students on both the East and West coasts.

Recent alumni receiving awards are:

Elizabeth (Higgins) Durika (E'03), who, in less than a decade after graduating from the College of Engineering on a Navy ROTC scholarship, has become a decorated military leader with important assignments on three continents.

Keith A. Eich (E'02, '04, HNZ'04), rising executive, is a champion of CMU students and alumni. Eich became vice president of operations and project management for LegalZoom.com this summer.

Receiving Alumni Service awards are:

Teresa Allison (HNZ'99), who for more than a decade has served CMU alumni and students in the Washington, D.C., area.

Myron R. Lewis (S'54). CMU's Boston Alumni Chapter has benefited from Lewis' service for more than 40 years and looks forward to the summer clambake he and his wife, DeAnne Rosenberg, host at their seaside home. The annual clambake attendance exceeds 150 individuals

Timothy S. K. Liu (HS'85), who has made an enormous impact on volunteerism and engagement at CMU while serving in a variety of roles at the regional and national levels.

Christine (Hayes) Nolin (S'85), Nolin demonstrates an exceptional commitment to giving time, talent and treasure to the university, shining in her interaction with students, especially in providing counsel to the Kappa Kappa Gamma sorority.
Receiving Student Service awards are:

Suraj R. Baxi (HS'12), a senior decision science major, who has made a lasting impact on campus and in the Pittsburgh community. As president of Bhangra in the Burgh, Baxi and his team hosted a national collegiate dance competition that has raised more than $30,000 for the Children's Home of Pittsburgh.

Maricel Paz (HS'12). Building on her experience as the 2010 Student Homecoming Committee Chair, this senior psychology major helped to launch a new university tradition as the 2011 Student Ceilidh Weekend Committee co-chair.

Erica F. Spiritos (E'11), a recent College of Engineering graduate, who has advocated for causes that have improved the CMU student experience, impacted the environment and provided basic human needs to residents of developing countries.
The Alumni Awards ceremony is one of many events planned for CMU's inaugural Cèilidh Weekend. Join us as we celebrate family, friendship, academic and professional achievements, our Scottish heritage and Tartan pride Oct. 27-30. We hope to see you soon!

Related Links: Read More about the Awardees | About Cèilidh Weekend
---