Cèilidh Weekend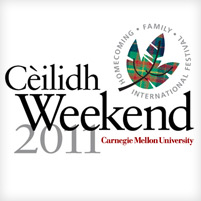 Join us for Carnegie Mellon University's inaugural Cèilidh Weekend Oct. 27-30.
A Scottish Gaelic term meaning "visit," Cèilidh describes a celebration traditionally hosted in the homes of family and friends.
Check the full schedule for dates and times of all that's happening this weekend, including:

The Pittsburgh Biennial Miller Gallery in Purnell Center for the Arts The Miller Gallery's section includes new sculpture, installation, printmaking, painting, video, publications, and workshops.
Scotch'n'Soda Production: "Urinetown" in McConomy Auditorium, University Center Winner of three Tony Awards, "Urinetown" is a hilarious and earnest tale of love, greed, and revolution. Tickets are $5 for CMU students/$10 non-students and can be purchased at www.snstheatre.org, starting Oct. 5.

Cèilidh Weekend Kick-off BBQ at The Fence

Join the student Cèilidh Weekend Committee as they kick off the start to the weekend packed full of events, activities, lectures, and fun.

Parents Leadership Program Presentation: Academic Development - The Learning Zone CMU's courses are challenging, but help is available. From Peer Tutoring to Supplemental Instruction to EXCEL collaborative learning groups, Academic Development offers a variety of resources available to help your student succeed at Carnegie Mellon.
Celebration of Diwali & Eid in Wiegand Gym in University Center The celebration of Diwali, also known as the "Festival of Lights," is a major Indian festival celebrating the victory of good over evil. Mayur SASA brings you an event packed with crafts, performances and a buffet of traditional South Indian cuisine. Buffet tickets may be purchased at the event. Registration Required/Pay at the Door

"My Path from CMU to Academic Medicine" in Rashid Auditorium, Gates & Hillman Centers Join 2011 Alumni Distinguished Achievement Honoree, Hillard M. Lazarus, M.D., FACP, (E'70), as he traces his experiences at CMU to a career in bone marrow transplantation and academic medicine. Registration Required/No Event Fee.
Lighting of the Pausch Bridge Connecting the Gates Center & Purnell Center for the Arts Find a good vantage point for the Pausch Bridge to watch as it shows off new student and faculty lighting projects.

Carnegie Clan's Annual Chili Cook-Off in Wiegand Gym, University Center

The Carnegie Clan invites students, alumni and families to enjoy the best chili CMU has to offer at the 8th annual chili cook-off.

Cèilidh Tailgate Party & KidZone Activity Fair in Wiegand Gym, University Center

Grab lunch before heading to the game to cheer the Tartans on to victory over the Washington University Bears.

Alumni and students: register and attend any events during Cèilidh and you're one step closer to becoming a Loyal Scot. What's a Loyal Scot?
Related Links: Schedule | Alumni Awards | President's Address | Lectures & Panels | Art Exhibits
---