Information & Communications Tech Leaders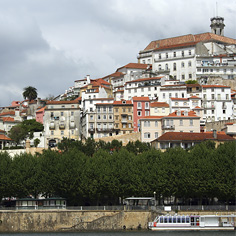 Tiago Carvalho, who obtained a Master of Science in Information Security will be among the 60 newly minted scholars of the Carnegie Mellon | Portugal program being honored today at a graduation ceremony in Portugal from the Universidade de Aveiro, the Universidade de Coimbra, the Universidade de Lisboa, the Universidade da Madeira and Carnegie Mellon University.
"It was a terrific experience and a huge opportunity," Carvalho said. "Among the best experiences was the chance of getting to know two very different environments with different teaching cultures, and different strengths."
The dual degree program, which began in 2006, brings together Carnegie Mellon, nine Portuguese universities and several Portuguese companies and research institutes to create new innovation networks around focused areas of information and communication technologies. Carnegie Mellon President Jared L. Cohon said that he is looking forward to the diploma ceremony for students graduating from the joint program in Portugal.
"We at Carnegie Mellon are pleased and proud of the great progress we have made in Portugal. We have forged strong partnerships and established world-class educational and research programs, which are already contributing to Portugal's progress. There is no better indication of our success than the new graduates from our joint programs," Cohon said.
Students will receive professional master's degree diplomas in a variety of disciplines, including information networking, software engineering, information technology and information security, and human-computer interaction.
"The program uses cutting-edge video-conference facilities routinely to create a virtual campus across the Atlantic Ocean," said João Barros, director on the Portugal side.
"It is, in a sense, a complement to the Qatar campus," said José M.F. Moura, director of the program at Carnegie Mellon. "While Qatar focuses on undergraduate education, the CMU|Portugal Program focuses on post-graduate education and research."
Moura added that faculty engage in unique interdisciplinary and complementary research collaborations, while students get an extraordinary cultural experience, as well as two degrees instead of one.
The 60 graduates represent eight countries — Portugal, the United States, Costa Rica, Spain, Germany, India, Ukraine and Canada — as well as corporate affiliates Portugal Telecom, Novabase, Nokia Siemens Networks and Critical Software.
Focus areas of the partnership include telecom networks, critical infrastructure and risk assessment, technological change and entrepreneurship, and basic sciences, including applied mathematics.
The CMU|Portugal Program offers four professional masters, seven Ph.D. programs and has a post doctoral program, as well as a number of research projects bringing together faculty members from Carnegie Mellon, Portuguese universities and companies.
Nuno Seixas, a graduate of the software engineering program, will speak at the ceremony.
"What I liked the most about the program was the close relationship between academia and theoretical concepts with the real-life industries," Seixas said. "Everything I learned gave me a new way of looking into problems, analyzing them and presenting solutions."
Inês Freitas Oliveira, who obtained a Master of Science in Information Networking (MSIN), is grateful for the experience. "I grew, both professionally and personally, and I am now able to be more confident in my choices and in facing new challenges."
The program is being hosted by the Rector of Universidade de Coimbra, Fernando Jorge Rama Seabra Santos.  Rectors José Costa from Universidade da Madeira, António Nóvoa from the Universidade de Lisboa, Vice Rector, José Mendes, from Universidade de Aveiro will also be in attendance.
Related Links: CMU Portugal  |  Portugal Diploma Ceremony 2010  |  INI
---