Ensuring Opportunities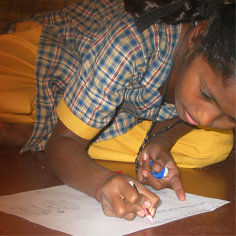 Researchers at Carnegie Mellon University want to ensure that socially disadvantaged children around the world have the same opportunities as other children — and are looking at ways in which language plays a role.

"A large number of language minority and other socially disadvantaged children struggle with learning to read in a second language," said Keiko Koda, director of graduate studies in the Modern Languages program at Carnegie Mellon and a world-recognized expert in the field. "Because failure to achieve adequate reading proficiency denies access to the essential tool for learning, those children suffer academically and increasingly fall behind in their schooling. Identifying any resources available to the children is crucial for alleviating their learning problems."

Despite a rising cry across the globe to make education rights accessible to everyone, research-based evidence of how literacy acquisition occurs in these diverse contexts is still sparse. Enter Koda and her students.
"I think working under the strong guidance of Keiko Koda on this biliteracy program has given me an opportunity to do research with an incredible group of students and faculty truly committed to helping children who are grappling with learning to read more than one language," said Pooja Reddy, a fourth year doctoral student whose research focuses on the biliteracy development of multilingual children from the urban poor communities of India. "This is extremely important for educational development because there are growing numbers of children across the world expecting to be able to acquire literacy skills in languages that may not be their native ones."

Much of the group's work focuses on literacy acquisition in two or more languages, the development of second-language communication skills, and "instructional interventions" in foreign language classrooms.
Children learn to analyze language forms early in their lives and use this analytic ability — referred to as metalinguistic awareness — to figure out how meaning is coded in their language. This ability later serves as a critical foundational competence in literacy development. The ability is vital because learning to read entails systematic deduction of how spoken sounds are organized and coded graphically in the writing system.  Once developed, metalinguistic awareness can be shared across languages.
"Because of its abstract nature, it is difficult to test — let alone teach — metlinguistic awareness," Koda said. "Our goal is to establish reliable methods of identifying and measuring metalinguistic awareness in school-age children learning to read in diverse combinations of languages."
She added, "We are hoping to provide researchers and teachers a means of assessing and describing metalinguistic awareness and, in so doing, promote higher quality research and instruction for biliteracy learners."
An example would be computer games designed to promote pattern detection. For example, children are asked to identify five words out of 10 with a common graphic element — for example, the "-er" in teacher, singer, dancer, driver — and then figure out what these words have in common in their meanings.

"We want to ensure that instructional activities are designed to provide children opportunities to use their meta-linguistic ability to analyze words, phrases and sentences in learning to read," Koda said.
"We are hoping to see the systematic incorporation of the instructional tactics that encourage teachers to identify, and use to the fullest, all possible resources readily available to their students."
Related Links: Modern Languages  |  College of Humanities & Social Sciences
---