Mariana Achugar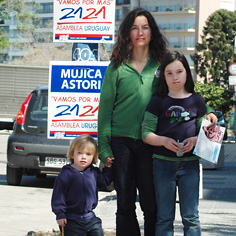 Mariana Achugar clutches her 8-year-old daughter's hand as they walk through the street market near their temporary home in Montevideo, Uruguay.
It is a Saturday morning, and the market is dense with people rallying. Slogans and songs boom from loud speakers. People on the street distribute flyers. Candidates in the upcoming election compete with one another for attention.
It is not unlike what Achugar herself witnessed when she was a young girl living in Uruguay. Demonstrations in 1973 were more chaotic and included militant youth. But the energy is familiar. She was just 6 when her family had to flee.
Now, nearly four decades later, the Carnegie Mellon associate professor is back; she is researching the dictatorship that forced her into exile for 10 years of her childhood.
This time is different. The country is now a democracy and is no longer at risk for the extreme censorship that forced Achugar's family to flee. And thanks to her recently awarded Guggenheim Fellowship, Achugar is in Uruguay throughout this school year, documenting how adolescents learn about the history that she, herself, experienced.
Weaving through the dense market, the mother-daughter pair absorb the scene. The younger because it is novel; the elder because of its significance. They approach a playground at the outskirts of the rally, and Achugar pauses to explain it to her young daughter.
They look up as a large car with posters and loudspeakers drives by, promoting Pedro Bordaberry for president. He is the son of the man responsible for the coup d'etat in 1973. Juan Bordaberry, his father, is now serving a prison sentence on charges related to two 1976 assassinations.
"That man's dad caused our family a lot of suffering," Achugar explains as the car passes. Her daughter seems to understand.
Related Links: Visit Carnegie Mellon Today for More Stories  |  Read 2009 Guggenheim Fellows Press Release  |  Modern Languages Dept  |  College of Humanities & Social Sciences
---