Class of 2014 Sets New Record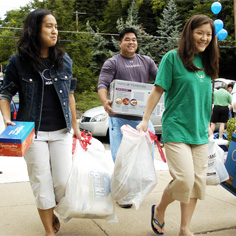 They haven't even finished unpacking, and already Carnegie Mellon University's Class of 2014 has begun carving its place in university history.
For starters, they are the largest entering class — more than 1500 first-year students in Pittsburgh and Qatar — breaking the previous high-water mark of 1,465 students in the Class of 2012.
The Class of 2014 enters with a strong record of academic achievement. On average, incoming students completed high school with a 3.65 grade point average and ranked in the top 9 percent of their classes. Average SAT scores were 670 in critical reading, 720 in math and 680 in writing.
And it also is one of the most diverse classes in the university's history, with approximately 15 percent of the first-year class representing ethnic minorities. Geographically, the first-year class represents 30 countries and more than 40 states, with approximately 14 percent international students.
This week's orientation will introduce them to Carnegie Mellon, Pittsburgh and each other through a weeklong series of events on and off campus.
Among the highlights are Playfair on Monday evening — better known as "the biggest icebreaker ever" — where students and staff will gather on the football field for games, activities and mingling.
At the Zero-Waste Dinner on Tuesday, students will learn how everyday actions — such as minimizing how much food and trash we throw away — can make a big difference for the environment. This event is co-sponsored by Eco-Reps and the Steinbrenner Institute for Environmental Education and Research.
Convocation takes place under the Baker Hall Lawn Tent on Thursday. Alumnus Jeffrey Zaslow, senior writer and columnist for The Wall Street Journal and co-author of The Last Lecture with Randy Pausch, will be the keynote speaker at the ceremony, starting at 4:30 p.m. Students were given the book before arriving on campus. During orientation week, the students will meet in small groups, led by faculty and staff mentors, discussing college, life and what it means to "really achieve your childhood dreams."
And throughout their time here, the Carnegie Mellon community will continue to encourage them — and prepare them — for achieving their dreams.
Related Links: Orientation 2010  |  Traditions  |  About Randy Pausch
---