Cohon, Kamlet to Serve until 2013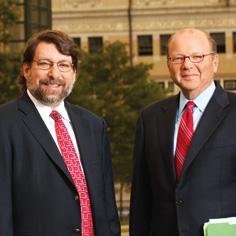 Carnegie Mellon University's Board of Trustees has unanimously approved a one-year extension of Carnegie Mellon President Jared L. Cohon's appointment, keeping him at the helm of one of the world's leading research universities until June 2013. Executive Vice President and Provost Mark S. Kamlet also agreed to further extend his term one year until June 2013.
The term extensions were voted on at a special meeting of the Board of Trustees on Aug. 17, after the Board consulted with and received support from the Executive Committee of the Faculty Senate.
"Jared Cohon has been an exceptional leader for Carnegie Mellon University. His vision and passion have defined the university's place in history as we have grown our global presence. This extension is important for us to enable strategic initiatives, such as achieving the goals of our capital campaign, completing our expanded campus master plan, and accelerating our global education programs and various groundbreaking research endeavors," said Carnegie Mellon Chairman of the Board Raymond J. Lane, a managing partner of Kleiner Perkins Caufield & Byers. "Jerry Cohon has fostered the growth of Carnegie Mellon's uniquely collaborative style in education, research and development. The board thanks him for agreeing to stay on an additional year."
"When the idea of staying on another year as president was presented to me, I was pleased to consider the proposal and to say yes to the opportunity. After 16 years as president, I will step down on June 30, 2013, knowing the innovations and accomplishments of this university are a source of pride for all of us. I'm also pleased that my esteemed colleague Mark Kamlet has agreed to continue as executive vice president and provost, keeping our superb administrative team intact," Cohon said.
Carnegie Mellon has progressed greatly under Cohon and Kamlet's management, and in the last 10 years the university has catapulted to a position of global leadership in higher education. During Cohon's tenure, Carnegie Mellon's curriculum has been recognized for its interdisciplinary focus and emphasis on problem solving with attention to ethics, environmental studies, global awareness and innovation.
There is unprecedented demand for undergraduate admission to the university as evidenced by the record number of applications received annually. In this year's first-year class students hail from 29 countries and more than 40 states with 14 percent representing African American, Hispanic and Native American students combined.
Known for the strength and depth of its educational and research programs in the U.S., Carnegie Mellon also has expanded globally and now offers graduate degree programs in Australia and several countries in Asia, Europe and Latin America, and has an undergraduate campus in Doha, Qatar. New research institutes and degree programs have been established in California's Silicon Valley.
The entrepreneurial culture of the university has continued to thrive: according to the Association of University Technology Managers, Carnegie Mellon ranks first among all U.S. universities without a medical school in the number of start-up companies created per research dollar spent, and second in the U.S. among all universities in 2008.
Pictured: Carnegie Mellon Provost Mark Kamlet (left) and President Jared L. Cohon (right)
Related Links: Read More  |  President Cohon  |  Provost Kamlet  |  Little Brag Book
---