Interns in Bangladesh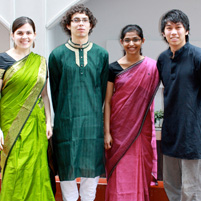 Five students and recent alumni from Carnegie Mellon University worked with partners in Chittagong, Bangladesh, for 10 weeks this summer to develop an educational tool for enhancing English literacy among pre-college students and to determine features for a standalone Braille writing tutor for visually impaired students.
The students and alumni from Carnegie Mellon's Pittsburgh and Doha, Qatar, campuses were participating in this year's innovative Student Technology ExPerience (iSTEP) internship, launched last year by the university's TechBridgeWorld program.
"Not many internships allow their participants to see how people interact with their work on the same level as iSTEP," said Anthony Velázquez, a 2010 computer science graduate who was the technical lead for the Braille writing tutor project in Chittagong.
He added, "Nothing beats my experience where I witnessed a visually impaired student repeat everything she just learned from the Braille writing tutor with a big smile on her face. It completely changes the purpose of your work — to know whom you are developing for — and it helps you to understand why your work is valuable."
The interns partnered with the Asian University for Women (AUW) and the Young Power in Social Action (YPSA) volunteer organization, both based in Bangladesh, to develop technology that addressed particular needs in Chittagong, Bangladesh's main seaport and second-largest city — with more than 2.5 million residents.
iSTEP provides students with real-world experience in applying their knowledge and skills for creative problem solving in unfamiliar settings. Student teams work closely with local partners in developing communities and contribute technical expertise by inventing new tools and customizing existing technology.
"iSTEP is all about transcending boundaries, crossing cultures and bringing different people together," says M. Bernardine Dias, TechBridgeWorld founder and director and an assistant research professor in the Robotics Institute. "It's not an easy task to address real-world challenges in a 10-week summer internship, but the iSTEP logo of a footprint is symbolic of taking a step toward making a difference. Our students have exhibited tremendous personal and professional growth as a result of their experience through iSTEP in both years."
Four interns were based in Chittagong and one in Pittsburgh. In addition to Velázquez, the multidisciplinary iSTEP team included Brian Manalastas, a senior business administration major at Carnegie Mellon Qatar; Aysha Siddique, a 2010 computer science and information systems graduate of the Qatar campus; Jonathan Muller, a graduate student in information systems management; and Jennifer Horwitz, a graduate student in public policy and management.
"When I applied for the iSTEP 2010 internship, I was looking for an experience that would be hands-on, provide an opportunity to learn about a new location and new communities, and help me to develop a stronger understanding of international development work," said Horwitz, who was the team's needs assessment and evaluation coordinator. "This internship has been all of these things and more."
iSTEP 2010 was sponsored by Yahoo!, the Qatar Foundation, internal funding sources at Carnegie Mellon and several external donors.
Photo: iSTEP interns Jennifer Horwitz, Anthony Velasquez, Aysha Siddique and Brian Manalastas at the AUW Access Academy graduation in Chittagong, Bangladesh.
Related Links: TechBridgeWorld | Yahoo! iSTEP Story | Follow SCS on Twitter
---