Qatar Students Join C-MITES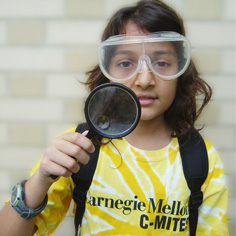 Every summer, hundreds of parents in the region load their child into the family car and head to the Carnegie Mellon campus to participate in C-MITES — Carnegie Mellon's Institute for Talented Elementary and Secondary Students. This summer, three fifth-graders had a longer journey. They traveled 8,000 miles from Doha, Qatar.
Fayadh Kabir, Sahana Kanabar, Al Jazi Al-Thani, and three schoolmates from the Qatar Academy, a K-12 school in Education City, spent two weeks at Carnegie Mellon and Pittsburgh in early July. They participated in C-MITES workshops and the Athletic Department's FITT Camp, where they enjoyed swimming tennis, hiking, racquetball, volleyball, golf and basketball.
"I learned a lot about physics," Kabir said. "We learned about circular motion and the three laws of Newton and how they explained the entire universe. It's an enjoyable class."
Then they ventured out with the class to places like the Carnegie Science Center, Pittsburgh Zoo and PPG Aquarium and a Pirates' baseball game, where they could explore physics in action in the real world.
Some students also enrolled in "Bridge Boom" and "Programming Using Alice."
In "Programming Using Alice," Tanya Shibu and Taran Kanabar learned computer-programming skills by telling fun and creative stories using the 3-D Alice software, developed at Carnegie Mellon by the late Professor Randy Pausch. They also learned traditional computer programming concepts, such as loops, nesting, if/else statements and functions.
In "Bridge Boom," third-grader Mursi Surag learned about the bridges in Pittsburgh and even got to build one.
"I liked the building bridges part," said Surag, who made the structure out of K'Nex and called it 'Fort Cable.'
Funded by the Qatar Foundation, the students were accompanied by their parents and siblings, who were impressed with the workshops, fitness camp and the city.
"The program has been excellent," said Paula Brunning, mother of Sahana and Taran Kanabar. "From the first day, they came home with lots of enthusiasm. Taran was extremely excited to show what he's been doing. This is our first time to Pittsburgh and I'm really impressed," she said.
"She's enjoyed her stay and she enjoyed her lessons," said Rooma Shibu, mother of Tanya Shibu. "It's been good exposure for her to meet different kids. She found the Alice programming a bit challenging, but that's the idea. She has to push herself."
Khalid Surag, father of Mursi, said he hopes to have a C-MITES program in Doha, and Judy Hallinen said that could be a possibility.
"It's something we'll be exploring with the Qatar Academy and Carnegie Mellon in Qatar," said Hallinen, director of Carnegie Mellon's Leonard Gelfand Center for Service Learning and Outreach, which has served as host for the families." In its 19th year, C-MITES offers challenging programs for academically gifted students who have completed grades 3 through 8.
The enrichment curriculum complements what students have studied in school in mathematics, science and the humanities. Activities used in the courses have been recommended by the National Council of Teachers and Mathematics, the National Science Teachers Association and the National Council of Teachers of English. Nearly 5,000 students participate in C-MITES each year.
Related Links: C-MITES  |  Gelfand Center
---