BankSimple.net Offers Solutions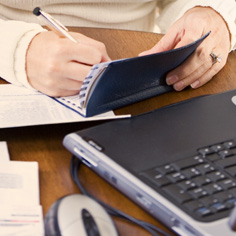 Overdraft charges, online payment errors, hidden fees — these are just some of the common complaints of banking customers. Two alums of the Carnegie Mellon Tepper School of Business have a solution.
Joshua Reich and Shamir Karkal are the co-founders of BankSimple, a unique online start-up with a name that says it all.
"Since de-regulation, American banks make more money from fees than from core banking — in short, by keeping customers confused," explained Reich (TPR'06), a native of Australia. "We have no hidden fees, and no incentives to confuse our customers, so we address a slew of pain points. For example, we let you deposit checks by smartphone photo and transfer money around your social network."
In addition, BankSimple customers will be able to manage their finances with one card, no overdraft charges and free online bill payment. So how can the company make money? The 'simple' way — ordinary lending and credit card use.
The two founders have been friends since their Tepper days, keeping in touch after graduation by swapping financial industry war stories. Both had an entrepreneurial bent — Reich with start-up experience and Karkal with a dream.
"I never gave up the dream of being an entrepreneur someday. My involvement with the Entrepreneurship and Venture Capital Club at Tepper helped me become more familiar with the startup culture in the U.S.," noted Karkal (TPR'06), a Bangalore native. "When I started discussing BankSimple with Josh, it just seemed the perfect idea at the perfect time."
'Perfect time' might seem a surprising comment given the current political climate and recent history of the industry, but Reich explains.
"It's a fantastic time to enter banking. Banks are very constrained right now. They can't afford to invest in technology innovation. And the political environment is very hostile to their fee-laden business models. As a startup, we can be much more nimble than established banks and solve customer pain with innovation driven by technology."
Both credit Tepper with allowing them the chance to gain not only valuable post-graduation work experience, but more importantly, lifelong connections.
"If it weren't for Tepper, I wouldn't have met Shamir and BankSimple wouldn't be where it is today," said Reich.
Added Karkal, "If it weren't for Tepper, I might not have joined McKinsey and developed an understanding of banking. And I wouldn't have met Josh, either."
Reich, Karkal, and Alex Payne, a former Twitter developer, comprise the current full-time staff. BankSimple plans to introduce a revised demo version in July and issue their first cards later this year.  But you can sign up for an invite today.
Related Links: BankSimple  |  Tepper School of Business  |  Entrepreneurship & Capital Venture Club
---