The Best Choice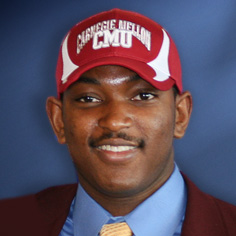 The local TV cameras are pointed at a group of young men, all impeccably dressed in sports coats, sitting behind an oak table. It's national collegiate signing day for high school football players. Smiling nervously at the media are a dozen senior teammates from DeMatha High School in Hyattsville, Md., a perennial football powerhouse. All wear caps, most of them stitched with familiar college logos.
Then there's Alex Copeland, the slender guy near the end of the table — the one who is grinning with the crimson red cap that has a three-letter acronym on the front. Where's he headed? USC? OSU? Try CMU.
Copeland, a tight end who only started playing organized football in 10th grade, was widely recruited by Division 1 programs. He was also recruited heavily by Harvard and Princeton and turned them down to wear Tartan plaid.
"I feel there are so many great things about CMU, but more than anything I like the attitude of the students at the school," Copeland said. "At most universities I have visited, students are only trying to get through school or just pass a semester. At CMU, they also have an idea for their life after college and what they want to do after graduation. Simply put, they are driven toward a goal instead of merely being content with what they are doing."
Copeland dreams of one day being in charge of his own engineering company or head of an engineering division.
"In such a capacity, I would want to make the world a better place than it was in the past," Copeland said. "I feel that CMU is the best place to help me achieve my goals because it has great professors to teach me what I need to know, an incredible support system that can help me to start working upon graduation, and accessible, successful alumni to guide me toward achieving my goals."
Copeland's mother was supportive of his attending CMU from the start. She lived in Pittsburgh for a few years after college. Her brother received his graduate degree from CMU.
"My uncle is doing very well now, and I believe my mother wanted the same for me," Copeland said.
Back at the signing-day media scrum, reporters make their way to Copeland. One asks how people react when he tells them he's passing on Harvard and Princeton and Division 1 programs.
"They're shocked at first," Copeland said.
"Don't worry," the reporter winked. "They'll probably end up working for you some day."
Related Links: College of Engineering  |  Athletics  |  Carnegie Mellon Today
---