...and Reunion Weekend!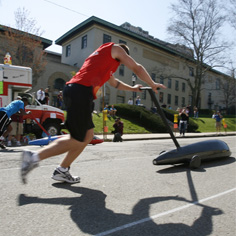 Think of a modern-day, aerodynamic soapbox derby — complete with student-designed, built and powered cylinders racing through campus. Known as "Buggy," this weekend many witnessed it in person.
Carnegie Mellon University held its annual Spring Carnival and Reunion Weekend April 15-17. Admission to the festivities — including the buggy races — was free and open to the public.
In addition to the races, Carnegie Mellon student organizations hosted more than 30 booths on the "Midway." The booths are student-built around an annual theme. Designs often reach two stories tall. This year's theme was "History with a Twist."
Alumni who returned to campus enjoyed reunions and a variety of events. And alumni and students learned how they can become part of the new exclusive Loyal Scot program.
Throughout the weekend, performances put the talents of today's students on display. The curtains rose on Thursday evening for the School of Drama's production of Richard III and Scotch'n'Soda's production of Dirty Rotten Scoundrels.
Additional activities throughout the weekend included free lectures, anniversary celebrations, open arcades and more.
Related Links: Watch Innovation & Buggy  |  Spring Carnival Schedule  |  Alumni Carnival Schedule
---