Qatar, Pittsburgh Students Unite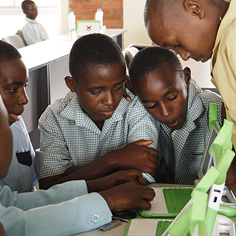 Through a series of video conferences, students at Carnegie Mellon University in Qatar got to know students at the Pittsburgh campus in preparation for their recent trip to Kigali, Rwanda. Their joint mission? To get elementary students excited about technology.
Working in collaboration with One Laptop per Child (OLPC), they held a summit of sorts for 10 days. The children stayed after school that week while the Carnegie Mellon students showed them things like simple programming, how to create music, and how to use the Internet, email and chat.
OLPC is a national non-profit organization whose mission is to create educational opportunities for the world's poorest children.
"Children are the purest form of life," said team member Vishal Agrawal (E'12). "We want give them hope, to show them they don't have to wait for knowledge; there is so much information available to them on the web. We want them to understand that they can make a difference in the world."
Urna Biswas (TPR'12) says the enthusiasm for technology comes from the children seeing what they are able to create, and also through chat, which they can use to collaborate with each other.
"These children are the future citizens of Rwanda. We want them to realize that whatever they dream about, they can become; they are not bound in any way," said Biswas.
The students documented the whole experience through the photography of one of the team members, Joshua Debner (E'11). "Images make for powerful storytelling, and Josh is a great photographer," Agrawal said.
Sruthi Reddy Chintakunta (E'11) said everyone involved had bonded so well by the end of the trip. "The kids at the school were so open to us, especially by the end of the week. They are probably a few of the most curious 5th graders I know," she said.
"Learning programming, music and acting at their age is impressive. The OLPC people were very welcoming and trusted us a lot," Chintakunta added. "Rwanda, the land of a thousand hills, is so beautiful. Africa was not even on my life list of places I wanted to see, and now I am pretty sure I want to go back to Africa again."
Students who participated in the trip from the Pittsburgh campus include: Agrawal, Biswas, Debner, Amy Badiani (HS'11), Chintakunta, Melvin Rayappa (E'12), and Ariel Solomon (TPR'12). Students who went from Qatar include: Abhay Joseph Valiyaveettil, Waleed Khan (TPR'12) and Jim Briggs (TPR'13).
Related Links: Read More  |  CMU Project Rwanda Channel on YouTube  |  Project Rwanda Photos on Flickr  |  One Laptop per Child  |  Carnegie Mellon in Qatar
---