A Look Back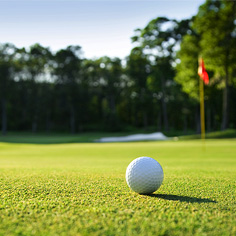 The 1973 U.S. Open Championship at Oakmont Country Club featured the greats of golf's golden era. Arnold Palmer, Jack Nicklaus, Lee Trevino, Tom Weiskopf and Julius Boros were the favorites to win.
But on the final day, all were upstaged by a young and relatively unproven professional golfer named Johnny Miller. In a come-from-behind win, he edged out the game's legends with a record-setting score of 63, winning by a single stroke.
Carnegie Mellon University historian Steven Schlossman and Adam Lazarus (HS'06), teamed up tell the story of this extraordinary event in a new book titled Chasing Greatness: Johnny Miller, Arnold Palmer and the Miracle at Oakmont.
"When Miller shot a 63 on what is thought to be the nation's hardest course, it instantly became one of the most luminous moments in golf history," said Schlossman, a professor of history who teaches the only collegiate-level course on the history of golf. "In the years since, many factual errors had become part of the myth around this unforgettable championship. We wanted to solve the inconsistencies and recreate the drama for modern-day readers."
To uncover what actually happened, Schlossman and Lazarus used a wealth of resources, including the Oakmont and United States Golf Association (USGA) Museum archives; thousands of newspaper articles from the 1920s through the 2000s; newly discovered television coverage; and 62 separate interviews with players, caddies, USGA officials and Oakmont staff members.
"Digital technology really allowed us to get great information from newspapers all around the country," Schlossman said. "This was a time when golf journalism thrived as never before, mainly due to the popularity of legends like Palmer and Nicklaus."
Schlossman also wanted the book to be grounded in hard evidence. To accurately recount Miller's greatest round in championship golf, Schlossman putted all of Miller's putts on Oakmont's greens. "I wanted to help the reader be there," he said.
Published by New American Library, an imprint of Penguin Books, Chasing Greatness also includes photographs and an appendix, co-authored by Carnegie Mellon statistics professor Joel Greenhouse, who analyzes Miller's round of 63 from a historical and statistical perspective.
The book focuses mainly on the lives and careers of six individuals who competed in the championship: Miller, Palmer, Nicklaus, Trevino, Weiskopf and John Schlee.
"The personality of each character intrigued both Steve and me, but discovering and tracking the ups and downs in their lives — both personal and professional — was most compelling," said Lazarus, a freelance sportswriter for the Atlanta Journal-Constitution.
Lazarus, who received a master's degree from the English Department's Professional Writing Program, is finishing a book about Super Bowl XXV called Super Bowl Monday. It will be released in September 2011.
Related Links: Buy the Book  |  USA Today's Q&A with the authors
---