Tackling Capitol Hill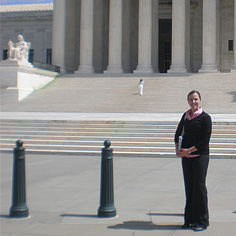 Jessica Buranovsky, a public policy and management major, recently spent a semester studying in Washington, D.C.  Although the decision to leave her teammates on Carnegie Mellon's basketball team was tough, it may have opened the door to her future.
"Coach Seidl was very supportive," Buranovsky said. "She told me basketball will always be here."
Upon her arrival in the nation's capital, Buranovsky had an interview with the Environmental Protection Agency (EPA). They hired her on the spot.
She worked in the Office of Prevention, Pesticides and Toxic Substances, now called the Office of Chemical Safety and Pollution Prevention (OCSPP).
As part of the Washington Semester Program through American University, Buranovsky also took classes with a focus on public law — allowing her a close look at the pivotal topics of our time and the processes by which the U.S. legal system addresses such issues. Special emphasis was placed on civil liberties, due process issues and the U.S. Supreme Court.
"I had very little background on government prior to leaving Pittsburgh and I was a bit nervous being in a pool of pre-law students, but I learned and caught up very quickly," said Buranovsky.
Her class spoke with many members of Congress — often on Capitol Hill. They discussed the range of opportunities for those with a legal degree, inspiring Buranovsky to consider such a route in her future.
"I feel that I have grown from this experience as a leader on and off the court of basketball. The younger players now look to me for advice on internships and I encourage them to broaden their perspective," Buranovsky added. "It is easier for me to step back on the court and take more of a mental leader approach than a physical approach because I now pay closer attention."
Working 400 more hours over the summer will make Buranovsky eligible for non-competitive placement in any governmental agency through the EPA's Student Career Experience Program.
Buranovsky also was recently accepted to the accelerated master's program in public policy at Carnegie Mellon's Heinz College.
"I enjoyed working with the EPA and studying for my master's will allow me to go back to work for the OCSPP," Buranovsky said. "To know that may have a career after graduation is the best thing that I could have taken away from the internship."
Related Links: Heinz College  |  Athletics
---