A Career of Educating Global Citizens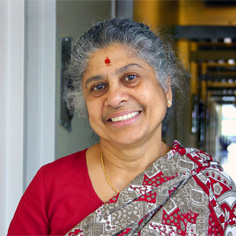 Indira Nair, Carnegie Mellon's Vice Provost for Education, will retire at the end of the school year after 32 years of leadership in many roles at the university.
"Indira's career here at Carnegie Mellon has been marked by integrity, passion, compassion and candor," said Provost Mark Kamlet. "For her, the key question has always been 'how do we educate our students to become aware, socially responsible global citizens of tomorrow's world?' Indira truly has touched nearly every aspect of this university."
Trained as a physicist, Nair taught science in K-12 classrooms and later extended her passion for good science teaching to the university classroom. She joined the faculty in Carnegie Mellon's
Department of Engineering and Public Policy
in 1978 and became vice provost for education twenty years later.
In this role, she has developed, led, and pursued funding for such undergraduate efforts as the "Odyssey" program for promising second-year students; ethics-through-the-curriculum; globalizing courses and environment-through-the-curriculum. She has served as chair of the University Education Council for many years, and has played a key role in the university's strategic planning efforts in education and advising.
She has tirelessly advocated for women and underrepresented minorities and has overseen many university operations, including the
Leonard Gelfand Center for Service Learning and Outreach
(
C-MITES
and
K-12 programs
); graduate support programs; graduate diversity; undergraduate research and fellowships; the Eberly Center for Teaching Excellence, Academic Development, and the Intercultural Communications Center; the Carnegie Mellon Advising Resource Center; the Office of Technology for Education; and the University Lecture Series.
"My biggest accomplishments were fueled by the freedom I was given by my three bosses — Granger Morgan, Paul Christiano and Mark Kamlet — to think big thoughts for educating and to try to make them happen and learn through failure sometimes," Nair said.
She mused, "Even while giving practical advice on an institutionally impossible idea I have, Mark says, 'If you think it is a good idea, go ahead. Just don't ask me for more money or space!'"
Nair's impact has reached beyond Pittsburgh to curriculum development and education design in Carnegie Mellon's undergraduate campus in Qatar as well as successful joint courses with the University of Pittsburgh focused on countries such as India and Brazil.
"The greatest strength of Carnegie Mellon is its students, then its collegiality, its welcoming nature, the constant striving to become better, and the genuine efforts President Cohon has made to live the ideal of inclusion and embracing differences," Nair said. "An equally great strength, perhaps unacknowledged often, is the phenomenal staff here — devoted to the university, and dedicated to the students."  
As a result of her dedicated service, Nair has received many honors both nationally and internationally, including the Barbara Lazarus Award for Culture and Climate, the Undergraduate Advising and Mentoring Award and the Doherty Prize for Excellence in Education at Carnegie Mellon.
"Indira's service to the Pittsburgh and global community, to science education, and to Carnegie Mellon's history and its future are immeasurable," Kamlet said. "There is no wonder that students stay in touch and alumni return to Pittsburgh, making sure they visit with her."
Related Links: International Excellence  |  Two Countries, One Classroom  |  Global Solutions
---