Prof. Frazer Addresses Conflict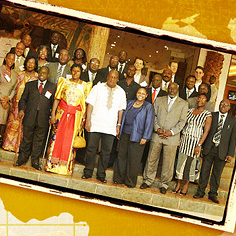 Carnegie Mellon Prof. Jendayi Frazer recently called on African leaders to reduce electoral conflicts in sub-Saharan Africa by improving accountability, justice and transparency.
"I think the core point is that there are so many important elections coming up in Africa, we really need to break this trend of pre- and post-election violence," said Frazer, a distinguished public service professor and former U.S. Assistant Secretary of State for African Affairs. "We need to break a political tradition that seems to be unfolding in Africa."
She addressed the leaders at a recent conference held in Accra, Ghana. The three-day conference, which Frazer conceptualized and organized, was aimed at addressing electoral violence in the region. The event attracted ministers and election supervisors from Ethiopia, Ghana, Kenya, Liberia and Southern Sudan, among others.
The conference was timely, taking place as Sudan prepares for the first multiparty presidential election in 24 years — after decades of civil war. Ultimately, a peaceful election process in Sudan could serve as a model for future elections in the region.  (Read Frazer's thoughts about the European Union's decision to pull observers from Darfur on April 7, ahead of the slated elections, on CNN.com.)
At the conference, Frazer argued that African leaders need to improve the administration of elections in order to mitigate violence and disorder. Frazer recognized that the risk for electoral violence is higher during tense elections, especially when people with long-standing political grievances feel their voices are not being heard.
"The focus is to increase the confidence in the credibility of elections so that all parties will feel that when the vote is tabulated that, in fact, it represents the will of the people," explained Frazer.
Frazer emphasized that, while electoral violence captures headlines in the West, it is the exception rather than the rule in Africa.
"Even though we've seen this violence in very high profile cases, the majority of African countries have been able to have elections without this type of violence," said Frazer.
When violence does occur, it can displace citizens, place strain on fragile economies, and even lead to civil war. Conference organizers hope that attendees will return to their countries able to maintain the rule of law, while accommodating many political views and identifying warning signs of political violence early.
"I thought the conference was very successful. We had senior level participation from each of the five countries we really focused on, and I think we came up with some very concrete recommendations and action plans," said Frazer.
Frazer is currently the director of Carnegie Mellon's Center for International Policy and Innovation (CIPI).  The conference, entitled "Preventing Electoral Violence and Instituting Good Governance," was organized by CIPI and the Ghana Center for Democratic Development.
Related Links: Watch Video  |  Listen to Podcast  |  Read More on CNN.com  |  College of Humanities & Social Sciences  |  Heinz College
---