Ian Rawson to Give Keynote Address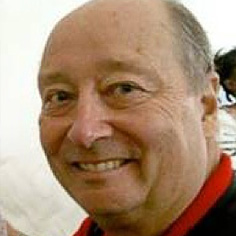 Ian G. Rawson, managing director of Hôpital Albert Schweitzer (HAS) in Deschapelles, Haiti, will be the keynote speaker for Carnegie Mellon University's 113th commencement ceremony. The ceremony takes place at 11 a.m., Sunday, May 16 in Gesling Stadium on the university's Pittsburgh campus, where more than 3,700 undergraduate and graduate degrees will be conferred.
"We are fortunate to have an outstanding class of honorary degree recipients and a keynote speaker who have had a profound global impact in their chosen fields," said Carnegie Mellon President Jared L. Cohon. "We are especially pleased to welcome as our keynote speaker Ian Rawson, who has led Hôpital Albert Schweitzer in Haiti for many years. He has worked tirelessly and literally non-stop since the devastation of the January earthquake to treat the injured and to care for thousands of refugees. His is a story of leadership and selfless dedication that will inspire and motivate us to respond to the challenges facing the world."
When Rawson was 10, his stepfather and mother, Dr. W. Larimer Mellon Jr. and Gwen Grant Mellon, became acquainted with Albert Schweitzer, the great musician, theologian and physician who founded a hospital in central Africa. They were so inspired by his example that they established HAS in Haiti's Artibonite Valley in 1956, and devoted the rest of their lives to collaborating with the people of the region to improve their quality of life. Rawson served as HAS board chair before becoming managing director. His wife, Lucy, is president of the Board of Friends of HAS, which raises funds and awareness through the sale of Haitian art.
Rawson earned his master's degree in political science from the American University of Beirut, his Ph.D. in medical anthropology from the University of Pittsburgh, and attended Harvard University's School of Public Health executive program in health planning and administration. He was president of the Hospital Council of Western Pennsylvania, president of AmeriNet Central and a senior manager with Allegheny General Hospital. He served various Pittsburgh cultural and health organizations' boards and advised public health programs in Costa Rica, Nicaragua, Guatemala and the Dominican Republic.
Rawson is a longtime Pittsburgh resident and member of the Carnegie Mellon community. He has served the university as an adjunct professor in the Heinz College, an advisory board member of TechBridgeWorld, a CMU team of faculty, staff and students that creates and implements technology solutions for developing communities around the world, and a collaborator on a variety of projects to advance social equity.
Leslie McAhren, who will be receiving a master's degree in fine arts, is the student speaker. McAhren is from Albuquerque, N.M. She received her bachelor's degree from Rice University.
This year, Carnegie Mellon will award honorary degrees to:
Gordon Bell, Doctor of Science and Technology. Bell is revered as part of the startup faculty of Carnegie Mellon's Computer Science Department, where he was a professor of computer science and engineering from 1966 to 1972. He's the father of the minicomputer and a world-renowned pioneer in high-performance and parallel computing, a principal researcher at Microsoft's Silicon Valley Laboratory, and for the last decade has been researching digitally storing a person's life.
Robert H. Dennard, Doctor of Science and Technology. Dennard, who earned his Ph.D. in electrical engineering from Carnegie Mellon in 1958, is renowned as the inventor in 1967 of the one-transistor dynamic random access memory (DRAM) cell for IBM — the global standard for low-cost digital memory used universally in computers and other data processing and communication systems today.
Barbara Luderowski, Doctor of Fine Arts. Luderowski has made immense contributions to the arts community in the region as well as to the redevelopment of Pittsburgh's North Side neighborhood. Beginning with her purchase of a vacant mattress warehouse in the Mexican War Streets area in 1975, Luderowski has created today's multi-building Mattress Factory, a highly regarded museum of contemporary installation art with a world-renowned artists residency program.
James H. Simons, Doctor of Business Practice. Simons is chairman of the board of Renaissance Technologies, the exclusively quantitative, highly successful investment firm he founded in 1982, and served as CEO until 2009. He is also chairman and founder of the nonprofit Math for America, which he, together with a group of others in the financial industry, established in 2004 to improve math education in the nation's public high schools.
Learn more about Gordon Bell, Robert H. Dennard, Barbara Luderowski and James H. Simons.
Related Links: Commencement  |  2010 Honorary Degree Recipients
---