A Community's Vision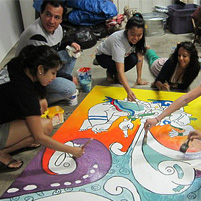 Collaborating on a mural is about more than bricks, mortar and paint. It's about community.

It's this lesson that a group of Latino youths in the Pittsburgh area recently learned, supported by Carnegie Mellon University's Center for the Arts in Society (CAS).

The youth group — Jóvenes Sin Nombres (Youths Without Names) — recently unveiled their work of art.

Painted on the walls of the Latino Family Center in Pittsburgh's Squirrel Hill, the mural "Pintando Para un Sueño" ("Painting For a Dream") depicts the Latino presence in the city.

The reference to a "dream" refers to legislation that, if passed, would grant some children of immigrants with high school degrees or military service a path to citizenship.

The mural also portrays the youths' vision for a better future for all young immigrants living in Pittsburgh.

Paul Eiss, director of the CAS, says Jóvenes Sin Nombres enriches the youths' lives as well as highlighting social and political issues.

"The group reminds us of the critical place of the arts in helping to catalyze community organization, education and civic engagement," Eiss said.

He continued, "The point is not merely to help to find a voice and a place for new immigrants in Pittsburgh. It's to use the arts to help transform the city itself, beginning with its walls."

The CAS worked in partnership with the Carnegie Museum of Art and Tavia La Follette, director and founder of ArtUp and the lead artist for the mural project.

In addition to the mural collaboration, CMU's Eiss and Therese Tardio, professors in Carnegie Mellon's History and Modern Languages departments, presented to the group.

First-year students in Eiss and Tardio's Humanities Scholars Program also collaborated with several of the youth — authoring a collection of their life stories.

Pictured: Members of the youth group "Jóvenes Sin Nombres" (Youths Without Names) work on a mural titled "Pintando Para un Sueño" ("Painting For a Dream"), which was recently unveiled at the Latino Family Center in Squirrel Hill.
Related Links: CAS | Jóvenes Sin Nombres | History Department | Modern Languages Department
---