Marshall Scholarship Winner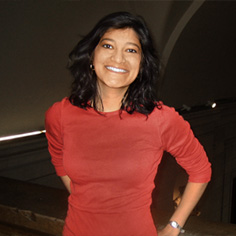 Sheela Ramesh, a senior at Carnegie Mellon University majoring in voice and psychology, has been named a 2009 Marshall Scholar.
She is the first student from Carnegie Mellon to receive this prestigious and highly selective international award, which funds up to two years of graduate study at a university in the United Kingdom.
The award of $34,347 a year covers university fees, tuition, books, a thesis grant, research and daily travel, including airfares.
Ramesh, a mezzo-soprano who studies with Mildred Miller Posvar in Carnegie Mellon's School of Music, says her diverse undergraduate education has prepared her well to study abroad. She intends to attend the Guildhall School of Music and Drama in London or the Royal Academy of Music.
"The wonderful depth of experiences and opportunities I've had in such different fields has led me to a somewhat unusual perspective on my field," said Ramesh, a member of the Phi Beta Kappa honorary society. "My hope is to contribute to the creation of stimulating new operas that will be engaging and moving for audiences who wouldn't ordinarily attend operas."
She added, "In order to achieve that, I think it will be important to have a wide variety of musical or artistic and analytical skills, and I feel as though my diverse education at Carnegie Mellon has helped immensely in preparing me for this next step."
Each year, the British government funds the Marshall Scholarships. Up to 40 recipients — who demonstrate exceptional academic and leadership abilities as well as the capacity to strengthen relations between the United States and Britain — are selected annually by eight regional committees throughout the United States.
Carnegie Mellon's Fellowships and Scholarships Office worked closely with Ramesh at every point in the process, from the initial application to preparing for the final interview.
Carnegie Mellon's School of Music educates outstanding, intellectually gifted musicians through excellence in performance, creativity, scholarship and pedagogy. The School of Music offers undergraduate degrees in music composition and instrumental, vocal and keyboard performance.
Graduate degrees are offered in composition, conducting and performance, and music education. The school also offers a variety of highly acclaimed non-degree programs, such as the Performance Residency Program, the Artist Diploma Program and the Dalcroze Eurhythmics, Piano Pedagogy, Advanced Flute Studies, Orff Schulwerk and Music Education certificate programs.
The Psychology Department at Carnegie Mellon has long been considered a pioneer in such areas as cognitive psychology, cognitive science and artificial intelligence. Today, its programs feature those fields as well as social and personality psychology, developmental psychology, cognitive neuroscience and health psychology. Its faculty members provide extensive service to scientific agencies and have been recognized with many honors and awards.
Related Links: School of Music  |  Marshall Scholarship  |  Dept of Psychology
---