New Carnegie Mellon Building Opens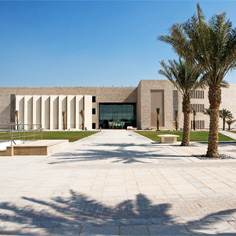 Carnegie Mellon University in Qatar celebrated the official opening of its new building in Education City on Sunday, Feb. 22. H.H. Sheikha Mozah Bint Nasser Al-Missned, chairperson of Qatar Foundation, along with the entire Carnegie Mellon Qatar student body, cut the ceremonial ribbon on stage.
"I was extremely proud to represent my university in today's ceremony. When Her Highness was on the stage with us, I felt it was a very unique moment where she was sharing the opening of our home with us. It made me feel how humble she is and how we belong to her campus, Education City. This was an outstanding and lifetime event for me," said student Noor Al-Jassim, senior business administration major.
Qatar Foundation provided this teaching and learning facility to Carnegie Mellon Qatar so that the university can deliver its world-class programs in a state-of-the-art setting. The building is the realization of Qatar Foundation and Carnegie Mellon's shared vision of education.
In the Scottish tradition of Carnegie Mellon, a bagpiper clad in full regalia led a procession into the ceremonial court. The whole community of Carnegie Mellon Qatar, along with guests from Pittsburgh, Pennsylvania, USA, distinguished guests from Doha and Qatar Foundation representatives, enjoyed an evening of videos featuring students, keynote remarks and the virtual ribbon cutting.
The highlight of the evening was when Her Highness cut the ribbon and officially opened the building. Joining her were Carnegie Mellon Qatar students, Carnegie Mellon Qatar Dean Charles E. Thorpe, Carnegie Mellon President Jared L. Cohon, and Qatar Foundation President Dr. Mohammed Fathy Saoud.
"Carnegie Mellon is very proud to be part of Education City. With the opening of this magnificent building, Qatar Foundation has added in a dramatic way to the physical manifestation of the vision and leadership of Her Highness Sheikha Mozah Bint Nasser Al-Missned. This is a great moment for the nation of Qatar and its people, and for Carnegie Mellon," said Cohon.
Carnegie Mellon Qatar presented Her Highness with a gift thanking her for her visionary leadership that laid the foundation for the rich partnership between Qatar Foundation and Carnegie Mellon University. The gift is a mural that depicts the history of Qatar and the evolution of Doha into the modern day city it has become. The mural, which was designed by Doug Cooper, a graduate from Carnegie Mellon and Andrew Mellon Professor of Architecture, is installed in the Carnegie Mellon building so that it can be viewed by everyone who visits Education City.
Designed by renowned Mexican architects Legorreta+Legorreta, the building revolves around a three-story atrium and walkway, and is located on Education City's East-West Walkway. This design fosters a greater sense of community and collaboration among students, staff and faculty throughout Education City.
The new Carnegie Mellon building covers 460,000 square feet, including 149 offices and workstations, a library, five lecture halls, 11 classrooms, five labs, five computer classrooms and both an interdisciplinary and a robotics lab.
Carnegie Mellon Qatar's new permanent building is a source of pride in Qatar and throughout the university community around the world. The building inauguration celebrates a milestone for Carnegie Mellon and underlines the university's commitment to provide world-class education in Qatar.
"In Education City, Carnegie Mellon University has already made a substantial contribution through its teaching programs," said Qatar Foundation President Mohammed Fathy Saoud. "Its first graduates are now participating in building Qatar's new knowledge-based economy. Carnegie Mellon has shown itself to be an important partner in Qatar Foundation's mission to lead the country into the ranks of the world's most advanced societies."
Related Links: Carnegie Mellon University in Qatar  |  Watch Videos  |  View Slideshow  |  Qatar Foundation  |  Global University
---