Developing Agents for Change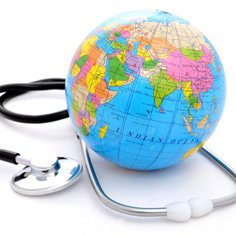 Few physicians know how to get things done on Capitol Hill like Carnegie Mellon Professor Jack Chow. For 20 years, he's worked behind-the-scenes and in front of the camera to help policy-makers around the world develop strategies for tackling such major public health threats as HIV/AIDS, tuberculosis and malaria.
"My calling was always to improve the health care system," said Chow, who joined the Heinz College after talking to Wilpen Gorr, Heinz College professor of public policy and information systems. "By focusing on policy, I felt like I could help so many more people than if I practiced clinical medicine."
Now Chow has developed a Global Health Policy course in the Heinz College's D.C.-based master's of public policy and management program to teach students how they, too, can become agents of change for a developing country of their choosing.
Acting as desk officers for the World Health Organization, students are responsible for reporting and analyzing health and development conditions in their assigned country, and then recommending policies to address those issues. To help them present arguments strong enough to withstand tough criticisms, Chow taught them a writing method he's honed over the years detailing how to frame policy recommendations clearly, quickly and convincingly.
Chow explained, "The first student who tried this, produced a paper on AIDS that was of such high quality, I think she could hand it to President Obama and he would consider it worthy of his attention."
Zhimin Mao was that student. She said the course magnified her knowledge of the subject by applying the writing method to different policy problems.
"Dr. Chow's teaching style is intuitive and engaging. He continuously asks challenging questions to lead us to think about solutions to the key health issues at our assigned countries," Mao said. "I can learn in real time by providing policy analysis and strategies to address existing international health challenges."
Another student, Zafar Imran, used Chow's methodology to write a paper with senior Pakistani officials on the control of Hepatitis in Pakistan.
"After completing Dr. Chow's class, I definitely felt confident to take on this special assignment," said Imran, who worked on the paper over winter break. The paper will eventually be presented to Pakistan's health minister and, ultimately, the president of Pakistan.
Before joining Carnegie Mellon, Chow served as assistant director-general of the World Health Organization, where he was instrumental in securing an unprecedented CA$100 million gift from the Canadian government to fund HIV/AIDS treatment and prevention campaign in developing countries.
Prior to that, he served as deputy assistant secretary for health under then U.S. Secretary of State Colin Powell in 2001, where he helped spearhead the creation of the Global Fund to Fight AIDS, Tuberculosis, Malaria — a public-private partnership that has committed $11.4 billion to fund 550 programs in 136 countries to fight these deadly diseases since its inception.
Chow has served in numerous other senior roles in the federal government. He says the Heinz College's D.C. program is unlike any in the country.

"I think the way the program is structured is enormously helpful because by day students are in the office environment dealing with real-world situations through their apprenticeships, then they bring what they learn to class in the evening," Chow said. "And students can constantly apply what they learned in the classroom at work the next day. It accelerates the learning process."
He added that Washington, D.C., is also an environment that's unlike any other in the world. "I'm really pleased that Carnegie Mellon was the first to pioneer this course."
Chow will be video-conferencing the class to students in Pittsburgh this summer and will teach the course again to DC students in the fall.
Related Links: MSPPM Program  |  Inside the Beltway
---