Carnegie Mellon, Pitt Findings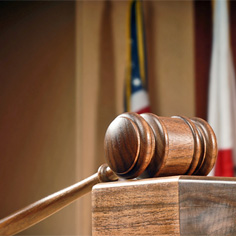 Long-held assumptions that the judicial decision-making process is always objective and color-blind are being challenged by new research conducted by Carnegie Mellon's Tepper School of Business.
Conducted jointly with the University of Pittsburgh School of Law, the study of hundreds of U.S. federal court cases shows that the race of federal judges frequently affects the outcome of cases in the area of workplace racial harassment. It also points to the importance of a more diverse judicial bench.
The researchers found that African-American judges — who currently represent only about 11 percent of all federal court judges — rule in favor of the plaintiff nearly 46 percent of the time, more than twice as often as white judges and the overall average plaintiff success rate. Robert E. Kelley of Carnegie Mellon and Pat Chew of Pitt conducted the study.
"These findings reveal that judges do not always leave race at the door when entering the courtroom," said Kelley, an adjunct professor of organizational and behavioral theory at the Tepper School. "Rather, differences in their social and cultural experiences due to race can influence their interpretation of laws."
The study — titled "Myth of the Color-Blind Judge: An Empirical Analysis of Racial Harassment Cases" — offers important insight into specific ways that factors such as race or political affiliation can impact the judicial decision-making process, according to the authors.
Chew, professor of law at the University of Pittsburgh School of Law, speculates that this disparity results from the difference in how white and African-American judges perceive racial harassment.
"Our data suggests it is not the workplace racial harassment in and of itself that is responsible for the dissimilarities in how judges of different races decide these cases," she said. "Neither group is inattentive to legal principles; they simply differ in their interpretation and understanding of the dispute."
Interestingly, the study also found that a judge's gender had almost no impact on outcomes of cases involving workplace racial harassment. However, political affiliation — a deciding factor in how judges are appointed — did have a significant impact, particularly for white judges.
Chew and Kelley believe that an underlying value of the study is its demonstration of the ability of judges to more keenly appreciate the perspective of plaintiffs who come from similar racial backgrounds.
"The experiences of minority judges affords them valuable knowledge, perspective and understanding of minority plaintiffs and the subtle — rather than blatant — forms of discrimination that can be more prevalent today," Kelley said. "If as a country we truly believe in judicial fairness, a more diverse bench is a good place to start, as it could increase the impartiality of the judicial system and yield more equitable legal outcomes."
The study, forthcoming in the Washington University Law Review published by Washington University in St. Louis, is part of a stream of research by Kelley and Chew on racial harassment in the workplace.
Related Links: Read the Paper  |  Tepper School
---