Scholarship Offers Global Experience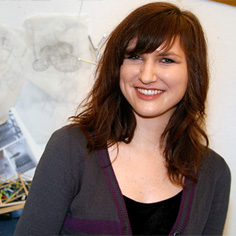 A poster depicting Monet's "Water Lilies" hangs next to the chalkboard as first-grader Kaitlin Miciunas quietly repeats after the teacher. "Un ... deux ... trois ... " With that moment began a child's dream of exploring the world beyond her Illinois home.
Today, that dream is coming true. Now an architecture major at Carnegie Mellon, Miciunas is also the winner of this year's Gindroz Prize for Travel/Study — and she'll be using the award money to study architecture abroad.
"Experience gained from traveling is irreplaceable, and I can only imagine how it will impact my education," Miciunas said, emphasizing the importance of studying architectural masterpieces in their own environments."
Her itinerary includes time in Paris, Berlin and Vilnius, where she will study the architecture, landscape and urban space of each capitol city — producing drawings and analyses. Upon her return, she will present a lecture to the Carnegie Mellon community and plans to produce a gallery exhibition based on her experiences and research in Europe.
Miciunas believes she inherited her drawing ability and drive for perfection from her mom — whom she credits for having the greatest influence on her.
"We used to ride around different neighborhoods near Carol Stream just to look at the houses and different buildings and talk about them." Miciunas explained. "My parents have always been encouraging about any ambitions I've had."
But her courses at Carnegie Mellon have also played a part.
"I have taken some influential courses, in particular the first three architecture studios I was in, along with an art theory course on sound art last semester," she said. "Each impacted my architectural and artistic opinions, understanding and interests — especially with respect to my travel proposal."
Miciunas recently enjoyed an opportunity to meet Carnegie Mellon alumni Marilyn (A '73) and Ray Gindroz (A '63, '65) — the donors behind the annual scholarship — and thanked them for helping her realize her dream of studying abroad.
"They are extremely interesting and obviously passionate about the arts and education," Miciunas said of the couple. "Marilyn and Ray lead extraordinary lives with many fascinating stories to tell."
Miciunas said she looks forward to getting to know them better as the year goes on, as well as sharing her own travel stories and research with them when she returns from her trip.
While she is still formulating her future plans, she expects her career to combine art and technology from a design point of view.
"I would like to continue my education after undergraduate and possibly teach," she said. "I think the most influential professors are those who challenge education and expect innovation and nothing less than quality in everyday work."
Related Links: Read Press Release  |  School of Architecture  |  Inspire Innovation
---