Qatar Initiative Opens Doors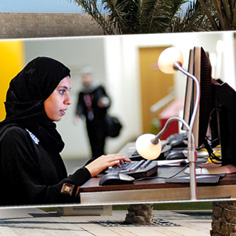 Companies are reliant on computers and servers for networking, analyzing and storing data, but the cost for maintaining these machines is high. Enter "cloud computing" — a way for companies to leverage the web for their computing needs. And Carnegie Mellon University in Qatar, along with IBM and two other universities in the area, is behind one of the first projects to bring cloud computing to the Middle East.
The Qatar Cloud Computing Initiative will open up its cloud infrastructure to local businesses and industries to test applications and complete various projects. Cloud computing could enable researchers in the area to do everything from advanced seismic modeling to testing the development of drugs that might slow the progression of serious illnesses. It could also provide solutions for the oil and gas industries and create a first-of-its-kind Arabic language search engine.
Driven by IBM, Carnegie Mellon University in Qatar, Qatar University, and Texas A&M University at Qatar will collaborate on this project. The project will also involve a community of industry experts, researchers and clients, all working together to develop a cloud solution solving industry problems.
"We are very excited to be working with IBM on creating the first cloud computing platform in the Middle East," said Associate Teaching Professor Dr. Majd F. Sakr at Carnegie Mellon University in Qatar. "This will help us realize our vision of developing, evaluating and extending a cloud computing infrastructure in Qatar to target regional applications and projects to help advance research."
Among the many anticipated uses of the Qatar Cloud Computing Center for advanced research include search, data mining, scientific modeling and simulation, computational biology, and financial modeling and forecasting.
The development of this cloud computing center will be based on a phased approach. Initially, the universities will collaborate with IBM on building the infrastructure.
"We are looking forward to working with IBM on pioneering cloud computing research in Qatar and the Middle East," said Texas A&M University at Qatar Professor Hussein Alnuweiri. "Our research is focused on developing methods for coordinating and scheduling multiple task streams on the cloud computing infrastructure. These methods will provide the main enabling technology for mapping large-scale and time-critical industrial and commercial applications into the cloud."
For more information on cloud computing, listen to this interview with Randal Bryant, dean of Carnegie Mellon's School of Computer Science on iTunes U.
Related Links: Listen to Randal Bryant on iTunes U  |  Carnegie Mellon in Qatar  |  Press Release  |  IBM on Cloud Computing
---