Carnegie Mellon Sept. 21-25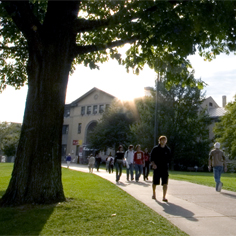 The spotlight is on Pittsburgh this week as international leaders convene at the G-20 Summit to discuss a global economic recovery plan.
The venue was well chosen as Pittsburgh's journey from industrial city to an international city of knowledge embodies the transformation many leaders are eager to mirror back home. And Carnegie Mellon University has played a critical role in that transformation.
In fact, the week of Sept. 21-25 exemplifies the role Carnegie Mellon is playing in shaping the future — not just in Pittsburgh but around the world.
The week began with the dedication of a new home for one of the world's best schools of computer science: the Gates and Hillman Centers. The university welcomed back to campus Bill Gates — co-chair and trustee of the Bill & Melinda Gates Foundation and chairman of Microsoft Corp. — as he presented the ceremony's keynote address on Tuesday.
On Wednesday, U.S. Ambassador to Ireland Dan Rooney kicked-off a day-long conference organized by Carnegie Mellon and the Atlantic Council — where top minds from policy, business and academic sectors explored the economic and social forces at work in the post-economic crisis world.
A related report — entitled Renewing Globalization and Economic Growth in a Post-Crisis World: The Future of the G-20 Agenda — was also recently published by Carnegie Mellon University Press. The report features insight from experts in their fields, including 15 Carnegie Mellon faculty members, and was compiled under the leadership of Professor Kiron Skinner, one of the country's renowned experts in international relations.
On Thursday, Carnegie Mellon will host Prime Minister Kevin Rudd, who will present a special keynote address to the university community, followed by an interactive panel of policy experts. The event builds on Carnegie Mellon's identity as a global university — our Heinz College program in Australia is one of a dozen degree programs offered outside the United States.
The week will conclude with Carnegie Mellon Professor Gregory Lehane directing First Lady Michelle Obama's concert for the spouses of G-20 leaders — a responsibility undertaken at the special request of the White House. The honor brings Lehane together with Yo-Yo Ma, students at the Pittsburgh High School for the Creative and Performing Arts, and other internationally celebrated musicians.
Whether it's opening the door to the next-generation of technologies, joining world leaders in examining the future of the global economy or shaping an exceptional musical experience, Carnegie Mellon is positioned at the forefront of innovation across disciplines.
The university is an economic engine — driving new industry and job creation. And it's our students, faculty, alumni and friends who are paving the way.
Related Links: Carnegie Mellon & the G-20 Summit  |  Gates & Hillman Centers Dedication  |  Prime Minister Rudd Address  |  Carnegie Mellon & Atlantic Council Conference  |  Report: Future of the G-20 Agenda
---