Tackling Global Poverty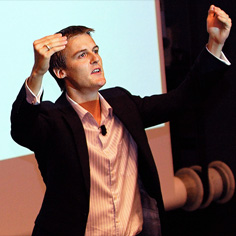 A native of Australia, Peter Lothian (HNZ '09) was visiting Washington, D.C., when the horrors of 9/11 occurred. The day serves as a constant source of motivation in his quest to tackle global challenges.
"I am fortunate enough to be working for a company that has the scope and capability to make a real impact in developing communities across the globe," he explained. "With this I have the opportunity to follow a career path which can be both successful and significant."
Lothian has also spent the last three years working for Coffey International Development, a company that provides advice and management to donor-funded projects in the developing world. With his encouragement, the company has been supporting the efforts of the Global Poverty Project (GPP), an organization dedicated to catalyzing the movement to end extreme poverty.
Lothian's been active since the project's inception due to his long-time association with co-founders Hugh Evans, a well-known Australian activist, and Simon Moss.
With Lothian's help, the organization recently developed a 90-minute presentation "1.4 Billion Reasons," highlighting the gravity of poverty.
With support from organizations including the United Nations, AusAID and Google, as well as notables like Hugh Jackman the presentation was launched in Melbourne on July 4, and is now rolling out across Australia and New Zealand before heading to the U.K., the Toronto Film Festival and New York this year.
To help him better achieve his larger goals, Lothian enrolled in the part-time master's degree program in public policy and management at Carnegie Mellon's Heinz College in Australia.
"I realized the benefits of a strong education that taught you to think," he said. "Carnegie Mellon stood out as a program that would develop my understanding of the world around me as well as enhance my general decision-making ability."
CMUA's support of the GPP has also been generous, including co-hosting a GPP event, and Carnegie Mellon professors Lee Branstetter and Terry Buss offering much-needed advice.
Lothian says he can already see how Carnegie Mellon has made a difference in his life. As Coffey's inaugural Innovation Officer he is making the most of his education by applying new geospatial technologies to the management of international development projects.
"The development of my capacity to absorb large amounts of information have proven invaluable," he stressed. "And the ability to think analytically is something that stays with you for life."
Lothian continued, "Carnegie Mellon teaches you to break down large-scale problems in a systematic manner to determine the best course of action. Those skills are essential in dealing with large-scale issues like poverty and development, and make small things like event management very simple and easy to do with great impact."
Related Links: GPP  |  Heinz College MSPPM  |  Carnegie Mellon in Australia  |  GPP News
---