A Non-Traditional Art Experience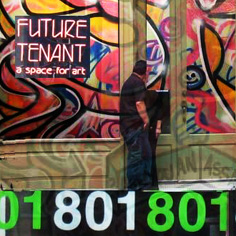 Opportunities abound for emerging artists and those who wish to manage them through a local non-profit called Future Tenant.
Run by Carnegie Mellon students Kate Hansen and Corinne Neal, the program has given more than 100 artists and performers the opportunity to exhibit since its founding in 2002.
On the flip side of that coin? Hansen and Neal — students in the Heinz College master of arts management program — are getting a unique hands-on arts management experience that will give them an advantage over other grads when they enter the workforce.
A joint project of the Carnegie Mellon's College of Fine Arts, the Heinz College master of arts management program and the Pittsburgh Cultural Trust, Future Tenant's core programs include a guest curator program, a monthly open-mic night, a performance residency series and several partnerships with local schools and colleges.
"We work with a board of directors who represent all walks of the community and who are our resources," said Neal, who has an undergraduate degree in theater and lived as a self-declared "starving artist" for three years in New York City. "With those resources we are able to run an organization and everything that goes with that. We do marketing, fundraising, budgeting, programming, work with the staff. It's an all-around great professional experience but with a safety net."
Hansen, who earned an undergraduate degree in studio arts, said the day-to-day operations give her an extraordinary amount of confidence in terms of professional experience.
"There are a lot of jobs that want X amount of experience. They aren't too keen about hiring students out of school," she explained. "But now I can go to those interviews and say that I did X,Y and Z, that I actually coordinated a fundraiser, and worked with a board of directors."
Neal agrees. "It provides a real opportunity for leadership. It's not just working somewhere; it's actually being responsible for the whole organization."
Neal says they have most recently increased the performing arts aspect through the program's open-mic night, which they call 'Vacant Lot.' And the residency, called 'Trespass,' gives applicants who have a troupe one week to rehearse in the space. They can then perform up to three nights.
Another feature is 'Future Ten Play Festival' which features 10 plays — each 10-minutes long — every November. 'Fenestrate' is a window installation series that lets them feature the work of emerging artists in the windows while there's a series going on inside.
"We're really about serving the community at large," Hansen said.
Future Tenant is located at 819 Penn Ave. Interested in exhibiting? Check the website frequently, as they post all open calls for artists and performers on the front page.
Related Links: Watch Video  |  Future Tenant Website  |  Future Tenant on Facebook  |  Master of Arts Management Program  |  Heinz College
---