O'Hare Travelers 'Explore Chicago'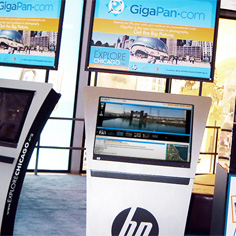 Hundreds of thousands of travelers pass through O'Hare International Airport every day but don't necessarily see anything else of Chicago. Now they can experience some of the Windy City's famous sights through GigaPan imagery.
Panoramas created with GigaPan, a technology developed by Carnegie Mellon's Robotics Institute and NASA, are featured on a new city website.
The imagery of iconic Chicago locations, can be explored in detail with 50 HP TouchSmart PCs installed throughout the airport by HP and the Chicago Department of Aviation and Office of Tourism.
GigaPan is a robotic camera mount and software package that allows anyone to create explorable panoramas using almost any digital camera. The technology is now being marketed by a spinoff company, GigaPan Systems Inc.
The O'Hare installation includes two "Explore Chicago" technology lounges in Terminal 2. In addition to HP computer kiosks and comfortable seating, the high-tech lounges feature 30-foot-by-10-foot prints of GigaPan panoramas of the skyline, Millenium Park and the Chicago trading floor of the world's largest derivatives exchange, among other sights.
Gigapan recently crossed the cultural divide with its 21st century "pen pal" program in which middle-school students in Pittsburgh, South Africa, Trinidad and Tobago exchange giant explorable digital images of their communities. The program includes a curriculum that encourages students to explore certain themes, such as sports or food, and then share GigaPans with their peers in other countries.
This GigaPan School Exchange initially was funded by Google Inc. and was established in partnership with the United Nations Educational, Scientific and Cultural Organization's (UNESCO) Associated Schools Project Network. With funding from the Claude Worthington Benedum Foundation and the Pittsburgh Foundation, the school exchange will soon include five more middle and high schools in Western Pennsylvania.
Many of the Chicago GigaPans were created last summer by Mary Jo Knelly, project assistant, and colleagues from the CREATE Lab of Illah Nourbakhsh, associate professor of robotics.
Knelly was on hand to demonstrate GigaPan during the media unveiling of the high-tech lounges and computers March 30.
Related Links: GigaPan Gallery  |  Watch Video  |  GigaPan Pen Pals
---