Students Raise Water Awareness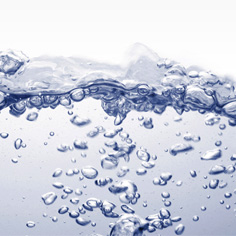 It's World Water Week and Carnegie Mellon student Amy Badiani texts her friends to confirm where they'll meet for lunch. They've chosen a restaurant participating in the Tap Project. Instead of enjoying a glass of water for free, they'll donate $1 or more toward bringing safe drinking water to children in another part of the world.
Badiani, a sophomore in the Dietrich College of Humanities and Social Sciences, and Sruthi Reddy Chintakunta, a sophomore in Carnegie Mellon's Electrical and Computer Engineering program, stumbled on the project while surfing the web. Started by UNICEF in 2007 with 300 participating restaurants in New York, the project has expanded to more than 2,000 restaurants nationwide.
When Badiani and Chintakunta noticed the project hadn't yet come to the Pittsburgh region, they decided to work together to bring it here.
"Carnegie Mellon is a place where you can make anything happen," said Chintakunta, who develops project initiatives for Students in Free Enterprise (SIFE). "Since I have been here at the university, I have had the confidence that anything you set to be your goal is possible to achieve through the help of everyone on our campus. And I am sure that this confidence will help me in my future."
Chintakunta explained SIFE is partnering with Amnesty International — Badiani is the campus's Amnesty awareness chairperson — to raise awareness about the world water crisis. Tables will be set up across campus where people will be encouraged to learn about the issue, participate in the Tap Project and more.
The student team is also committed to making the experience fun by setting up interesting displays, providing water-related activities — like a slip-and-slide and dunk tanks — and raffling off a Le Mont gift card.
"We have 15 dedicated volunteers with backgrounds from engineering to the social sciences, and I like that we can really fuse our disciplines together to make this event a success," Badiani said.
Badiani developed a passion to inform the community and help stop human rights abuse after taking a Human Rights and Global Politics class taught by Professor Silvia Borzutsky.
"Through Amnesty, I am learning that it's important to take initiative and give back to the global community," Badiani said. "Amnesty also keeps me up to date with a lot of current issues of international concern. One child shouldn't be dying every 20 seconds due to lack of clean water, and I aspire to put an end to that."
Chintakunta said she joined SIFE because it gave her the opportunity to do community service.
"Everything that I have learned through SIFE is preparing me to manage projects," she said. "All these little things we do as students make a difference in the lives of many people and teach us a lot through the process."
Chintakunta hopes that this form of community service is practiced by more people around the world.
"Carnegie Mellon is so diverse that you find people involved in so many different activities," she said. "Because of everyone's work in multiple fields and their willingness to help us, it gives us the ability to dream big and make those dreams come true."
Badiani agrees. "A lot of the people here are so driven and talented and I really enjoy building off of each other's ideas," she said.
Related Links: Read About the Tap Project  |  Electrical & Computer Engineering  |  Dietrich College of Humanities & Social Sciences
---