From the Classroom to the World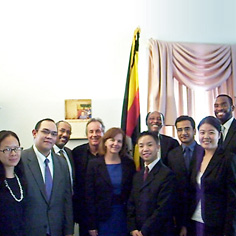 Seven students in the Heinz College's Master of Science in Public Policy and Management program recently met with Uganda's ambassador, presenting the results of a feasibility study concerning the country's vanilla supply. It was an opportunity to apply the skills they learned in Professor Meg Brindle's Systems Synthesis class to a real world problem.
The Systems Synthesis course involves teaching the students to apply some of the intellectual property tools developed by Light Years IP (LYIP), the Capitol Hill-based non-governmental organization that conducted the study. LYIP works throughout sub-Saharan Africa to provide poverty-alleviating solutions by helping producers capture more value for their specialty products.
In the case of vanilla, the finest quality retails for $12 for two pods at specialty markets in the United States, while farmers receive about $0.04.
The group is working on new markets, branding and workshops for Ugandan farmers that will teach them to use these market-based tools.
Ron Layton, Ashoka Fellow and CEO of LYIP, invited the students to make the presentation to the Ugandan leaders.
According to Brindle, this differs from typical sustainable development because it is not about production-based methods, which tend to create over-supply and falling prices. Rather, it is about acquiring more control over wholesale and retail markets through intellectual property.
Ultimately, it is about respecting the dignity of the poor farmers and enabling them to learn the tools akin to successful business while reducing dependency wrought by centuries of colonial rule.
In the second phase of the course, students will work with LYIP on three additional products — Mozambique cashews, Namibia Marula oil, and Tanzanian blackwood.
"In the case of cashews, there are about 900,000 poor cashew farmers in Mozambique whose cashews are sold at high profit off their shores, returning little value to the farmers," Brindle explained. "Light Years asked our students to explore new markets for Mozambique."
In the case of the blackwood project, Brindle said the wood is used to make $4,000 clarinets but only returns $.02 per log to the foresters in Tanzania.
"Our team is exploring a strategy with Light Years to make symphony orchestras more aware of this as they consider purchasing instruments," Brindle said.
Students are also helping to create solutions locally. One recent project, as reported in the Pittsburgh Post-Gazette, had students working together with food services director Michael Peck of the city's public schools, improving on the nutritional quality of food choices in elementary schools.
Pictured left to right: Ming Chu; Jay de Quiros; Mohammed Garad; Ron Layton, CEO, Light Years IP; Prof. Meg Brindle; Qiang Wang; Ambassador of Uganda Prof. Perezi K. Kamunanwire Ambassador Extraordinary and Plenipotentiary; Zafar Imran; Zhmin Mao; Mark Rutledge
Related Links: Read Post-Gazette Article  |  Light Years IP  |  About the MSPPM Program
---