And On to Italy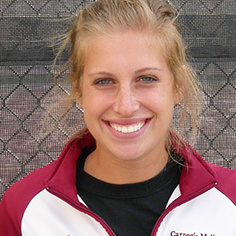 Last fall, Alisa Liebowitz (HS'10) bid farewell to the Carnegie Mellon tennis courts and spent the semester studying in Italy. The Carnegie Mellon student-athlete took advantage of the university's many study abroad programs. It was an experience she said she will never forget.
"I lived in Florence with five housemates, including one of my classmates from Carnegie Mellon," she said. "I took courses in drawing, cooking, conflict management, human resources and Italian language from Monday through Wednesday, and had the remainder of the week left for travel or exploration of the city."
Another friend of hers was studying in Madrid, so the pair met up in Barcelona, Dublin and Paris, while Liebowitz also went to London and then Greece as part of her program's spring break.
While she studied and traveled across Europe, tennis wasn't far from her thoughts.
"I joined a gym and met a player from Dartmouth whom I could play with on occasion," she said. "The court was less than an hour's walk away."
Studying abroad was something Liebowitz knew she wanted to do before coming to Carnegie Mellon. Before committing to the university, she discussed her hopes with head coach Andy Girard during the recruiting process.
"A well-rounded college experience is important and I completely support it," Coach Girard said. "I encourage my players to participate in extracurricular activities and taking a semester to study abroad is an enriching part of the college experience."
Girard isn't the only member of the Carnegie Mellon coaching staff to encourage his student-athletes to take advantage of study abroad opportunities. Four football players ventured through Spain this year while another just finished studying in China.
Other current athletes to study abroad include: Liz DeVleming (HS'09), women's volleyball, Argentina; Abby Coffin (HS'09), women's soccer, Spain; and Carolyn Clayton (A'09), women's cross country and track and field runner, New Zealand.
Related Links: Student Affairs  |  Athletics
---