New York & Beyond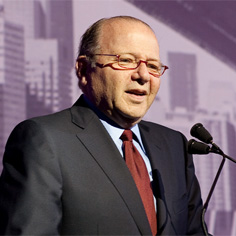 More than 400 alumni and friends gathered Nov. 5 for an inside look at how the Carnegie Mellon community is making an impact on key areas of importance to New York and the world. A panel of expert alumni and industry leaders engaged in discussions about energy, information systems, arts and entertainment, and the financial/investment industry.
Watch the panel on Carnegie Mellon's You Tube channel. View photos of the event on our Flickr pool.
"It's very fitting to have this event in New York City, where Carnegie Mellon's breadth and depth of talent are on full display," said Carnegie Mellon President Jared L. Cohon. "Our alumni here are leaders on Broadway, in film, on TV, producing some of the most exciting art in New York's finest galleries, are architects, developers and builders, leaders in business, and active in social and public services."
Panelists included Jay Apt, who is executive director of Carnegie Mellon's Electricity Industry Center. Apt is also an associate research professor in the Tepper School of Business and a distinguished service professor in Engineering and Public Policy.
Apt was joined by David A. Tepper (TPR'82), president and founder of Appaloosa Management L.P. and member of Carnegie Mellon's Board of Trustees.
Alfred Z. Spector, vice president of Research and Special Initiatives at Google, Inc. and David S. Steiner (CIT'51), chairman of Steiner Equities Group and co-founder of Steiner Studios rounded out the event's expert guests. The discussion was moderated by Raymond J. Lane, managing partner of Kleiner Perkins Caufield & Byers and chairman of Carnegie Mellon's Board of Trustees.
"My passion for Carnegie Mellon is deep," said Lane. "It really is attached to the fact that in Carnegie Mellon's DNA is the spirit of innovation."
Lane added, "Our research universities are the key to our future. There is no way around it. That's where our future exists. We have to support our major research universities, and Carnegie Mellon is in the top five in terms of the research that has to be done."
Related Links: Watch the Panel  |  View Photos  |  Inspire Innovation: The Campaign for Carnegie Mellon University
---