Entrepreneurs Share Early Lessons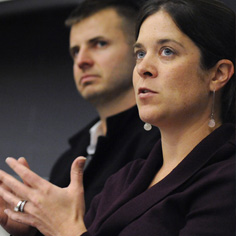 In recent years, several new companies and product innovations have successfully made the jump from concept to marketplace thanks to entrepreneurial mentorship, coursework, and incubation resources at Carnegie Mellon.
As part of  the university's events celebrating Global Entrepreneurship Week, former and current students shared  insights and experiences into how their businesses were launched and some lessons that helped them make smart business decisions.
Bryan Kaplan (TPR'02), whose software and technology company primarily focuses on the management of personnel during disasters, suggests learning all you can about your customers.
"One of the things we pride ourselves on is that we have the solution before they even realize they have the issues," said Kaplan, co-founder & vice president of operations at Collaborative Fusion, Inc.
"Our systems are in use around the country to help mobilize personnel, assets, resources and track them during disasters like Hurricane Katrina," he added. "I think Carnegie Mellon really gave me a good foundation. The lessons I was able to learn here were really applicable out in the software world."
Jessica Trybus (CMU'04), who delivers game-based training to the industrial safety market, stressed the importance of staying close to the customer.
"Spend as much time as you can trying to immerse yourself in their world," said Trybus, CEO & Founder of Etcetera Edutainment, who trained to operate a forklift among other things.
She added, "We're trying to take the proven effectiveness of flight simulation training and deliver it through video games as an accessible and affordable way to provide more effective training. The number one lesson I've learned is stay really close to your customer. You can't develop anything in a vacuum."
Nathan Martin (A'99), who develops innovative marketing campaigns as CEO & Lead Designer at Deeplocal, strives to maintain a hip culture that attracts interesting artists and engineers.
"The best advice I can give is to find something you are passionate about and build a business around that passion. Trust your instincts and surround yourself with passionate creative people. Look for inspiration in uncommon contexts. Life experiences breed ingenuity," Martin said.
David Chen (HS'10) emphasized how important early feedback was to his efforts with Fooala, Inc. — where he serves as CEO.
"If you have a great idea your passionate about, go out there and get different perspectives," said Chen. "One of the best things we did was we went to Project Olympus and got some key feedback right away."
Carnegie Mellon students are encouraged to cross college borders to grow their interdisciplinary strengths — and members of the panel pointed to the importance of this in their current success.
Several resources exist on campus to foster the entrepreneurial spirit at Carnegie Mellon, including:
The Donald H. Jones Center for Entrepreneurship at Carnegie Mellon University's Tepper School of Business — delivering cutting-edge innovations to the global marketplace by bringing together students, faculty and practitioners with groundbreaking research from the university's world-class schools and colleges.
Project Olympus — providing incubator space, as well as start-up advice and micro-grants, for faculty and students across campus.
The Center for Technology Transfer and Enterprise Creation — facilitating and accelerating the movement of research and technology out of the university and into the marketplace
Art Boni, the John R. Thorne Chair of Entrepreneurship and director of the Donald H. Jones Center for Entrepreneurship, introduced the event, and it was moderated by Steve Fleck (TPR '04), CTO, ClearCount Medical Solutions, Inc.
Photo: Jessica Trybus (CMU'04)
Related Links: Watch Video  |  The Donald H. Jones Center for Entrepreneurship  |  Project Olympus  |  Center for Technology Transfer & Enterprise Creation
---