Study Abroad Blossoms for Alum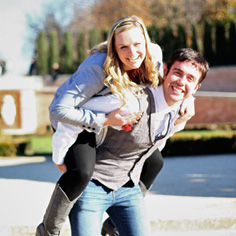 Abigail Coffin's (HS'09) love affair with Madrid started in her junior year at Carnegie Mellon, studying abroad. "There are certain parts of the city that are so beautiful that at times you never want to take your eyes off of them for fear you might never get the chance to see them again," she said, citing inside the Prado Museum, Puerta de Alcala and El Palacio as examples.
"When I returned to Carnegie Mellon as a senior, I made it my goal to return to Madrid," she said. "I had hoped that I could either work or study there while also giving back to the community that taught me to be independent, left me with amazing memories, and all in all gave me so much."
And she is. A random email from her friend James Harrell suggested a Teach and Learn Program in the city. Harrell, who also studied in Madrid, thought the program would be perfect for her.
Turns out he was right. Coffin received a full scholarship to attend la Universidad de Alcalá de Henares in a program that specializes in bilingual and multicultural studies. She is an English teacher for students 13- to 18-years-old at the Sagrada Familia School in Moratalaz.
"I absolutely love teaching English as a second language to Spanish students. Teaching these students has not only become a passion of mine, but it is an interesting and exciting challenge every single day," she said. "I learn as much from my students about Spanish culture and language as I do from classes at the university. It's an incredible experience."
Since she arrived for the second time in August, she has not only gained an even greater appreciation for Spanish culture, but has come to realize that being part of another person's education is an incredibly rewarding occupation.
"It's more challenging than I ever imagined," she said. "I have great respect for all teachers; every level, language and subject."
Harrell is also in the program and shares many of the same feelings about the challenges — and rewards — of studying abroad.
"I am planning to return to graduate school for education policy," explained James.  "I always feel that the largest problem with public policy is the implementation gap — great academics come up with a rationale policy, but it simply can't be executed by teachers and administration.  This year, teaching in an inner-city Spanish school, has shown me the specific challenges of new education policies."
He added, "As soon as you've become a teacher, you realize not only how difficult the job is, but also how amazing our teachers at Carnegie Mellon have been. If I hadn't been helped and encouraged by all of my professors, I would have never been able to have the courage to make this monumental change."
Photo by John Aragon
Related Links: Study Abroad  |  College of Humanities & Social Sciences
---