Chief of Naval Operations Visits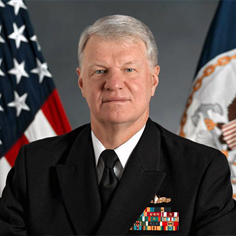 Chief of Naval Operations Admiral Gary Roughead discussed "America's Global Navy: In the Middle East and Beyond" at Carnegie Mellon University on Oct. 21. In his lecture, Roughead addressed the future challenges that the U.S. Navy faces.
"International naval cooperation is the cornerstone of America's maritime strategy," Roughead said. "We have to be driving toward a Navy that reflects the face of the nation, a Navy that when the American people and American leaders look at it, they see themselves reflected back. And, we have to start now."
Carnegie Mellon's Kiron K. Skinner, an associate professor of international relations, director of the International Relations and Politics Program, and a member of the Chief of Naval Operations Executive Panel, believes Roughead's message is coming at a crucial moment.
"With the U.S. involved in two wars in the broader Middle East and the Obama administration reassessing its Afpak (Afghanistan/Pakistan) policy, it's imperative to understand how our military plans to manage everything," she said. "It's also important to realize that the U.S. is not operating on its own accord but in the interest of the global community and with international cooperation."
A member of the Joint Chiefs of Staff, Admiral Roughead leads the U.S. Navy's more than 600,000 globally deployed sailors and civilians, and is the principal naval advisor to President Barack Obama, Secretary of Defense Robert Gates and Secretary of the Navy Ray Mabus.
Roughead is a 1973 graduate of the U.S. Naval Academy and became the 29th Chief of Naval Operations in September 2007. During his storied career, he commanded various fleets as a flag officer, including the Cruiser Destroyer Group 2, the George Washington Battle Group and the U.S. Second Fleet/NATO Striking Fleet Atlantic.
Ashore, he served as commandant of the U.S. Naval Academy, the Department of the Navy's Chief of Legislative Affairs, and as deputy commander of the U.S. Pacific Command.  Roughead is one of only two officers to have commanded fleets in the Pacific and Atlantic, commanding the U.S. Pacific Fleet and Joint Task Force 519, as well as commanding the U.S. Fleet Forces.
Admiral Roughead's lecture was part of the Carnegie Mellon International Relations and Politics Program's Speaker Series and is co-sponsored by the university's College of Engineering and Heinz College.
Related Links: International Relations and Politics Program  |  College of Engineering  |  Heinz College
---