Ambiguities of Modernization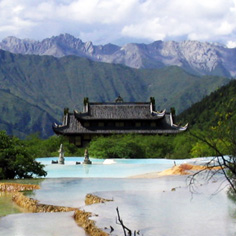 The Olympic Games are well underway in China and the country is using the opportunity to showcase its modernization efforts in Beijing. With the nation's development reaching far beyond its urban centers, however, the country's remote regions are sometimes facing as much upheaval as opportunity.
One example is the scenic and historic area of Huanglong, where Carnegie Mellon professors Xiaofei Kang and Donald Sutton are examining the tensions between the region's residents and tourists. For centuries, residents have made pilgrimages to this religious site and tourists have flocked there since it was named a UNESCO World Heritage Site in 1992.
"The sacred rituals performed at Huanglong require specific conditions, according to the pilgrims' beliefs," said Kang, an associate professor of Chinese in the Department of Modern Languages at the Dietrich College of Humanities and Social Sciences. "The tourism efforts have dismissed the site's religious significance and, in some ways, interfered with the rituals."
A diverse local population that includes ethnic Han Chinese, Muslims and Tibetans has assigned various meanings to the site. Huanglong's natural landscape provides the setting in which Tibetans honor a mountain god who overlooks the valley. The site's man-made temples are important worship sites for the Han and Qiang groups.
However, the area's tremendous natural beauty — the source of much of its tourism potential — was the focus of China's proposal to UNESCO, not the area's spiritual side. In fact, the region's cultural and religious importance was entirely absent from the proposal.
The government-run Management Bureau upholds UNESCO's ecological preservation standards but discourages religious activity. Consequently, worshippers are dwindling in number, overwhelmed by the masses of tourists and discouraged by the commercialization of the temples, secularization of the annual fair and high cost of nearby hotels.
But some enterprising locals have capitalized on the opportunities presented by the site's evolution.
"Of course locals are not just victims but also are agents of change," said Sutton, a professor in the college's Department of History.  "Many have profited from tourism despite the setbacks at Huanglong."
Development takes unexpected forms: Tibetans have reinvested in new homes with altar rooms; Muslims in new mosques.
Sutton and Kang see Huanglong as a microcosm of China's ethnically and culturally mixed frontier regions, where the Chinese state has penetrated with difficulty over the centuries.
Results from their research, supported by a collaborative grant from the National Endowment for the Humanities, have appeared in (Im)permanence: Cultures in/out of Time, a recently published book based on the first conference of the Center for the Arts in Society. Sutton and Kang are also busy completing a book manuscript with additional research findings.
Photographed: Huanglong Rear Temple, Sichuan Province
Related Links: Dept of Modern Languages  |  Dept of History  |  Dietrich College of Humanities & Social Sciences
---