Celebrating Randy Pausch's Life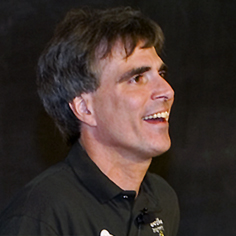 Carnegie Mellon University celebrated the life of Professor Randy Pausch with a special memorial event on Sept. 22 at 4:30 p.m. Pausch, a beloved professor who became world-famous for his inspirational "Last Lecture," died from pancreatic cancer on July 25, 2008. He was 47.
"Remembering Randy: A Celebration of the Life and Legacy of Randy Pausch" included recollections and tributes from a number of Pausch's friends and colleagues. Attendance in Rangos Hall of Carnegie Mellon's University Center was by invitation only, but the entire event was streamed live on ABCNews.com.
"We have been overwhelmed by the outpouring of affection for Randy and the deep sense of loss felt by so many of the people who came to know our friend and colleague over the past 11 months," said Jared L. Cohon, president of Carnegie Mellon University. "We wish we could accommodate everybody who would like to attend this event, but the size of even the biggest room on campus, not to mention our limited parking, makes that impossible. By making live streaming video available, we hope that everyone can join us as a virtual community."
The university encouraged its schools and colleges to organize their own gatherings of students, faculty and staff to watch the webcast on ABCNews.com, and hoped that friends of Randy elsewhere in Pittsburgh and across the country would do the same.
Like the video of Pausch's Sept. 18, 2007 lecture, video of the memorial event will be posted soon after the ceremony on Carnegie Mellon's YouTube and iTunes U pages. The video also will be available at http://abcnews.go.com/GMA/LastLecture.
Information about Pausch, his lecture and the Sept. 22 celebration is available at www.cmu.edu/randyslecture.
Pausch, who earned his doctorate in computer science at Carnegie Mellon in 1988, joined the faculty with appointments in the Computer Science Department, the Human-Computer Interaction Institute and the School of Design in 1997. A popular professor who encouraged artistic and technical people to work collaboratively, he was known in academia for co-founding the pioneering Entertainment Technology Center and for creating the innovative educational software tool known as "Alice."
Pausch gained his greatest fame for his life-affirming "Last Lecture," which he delivered to his students and colleagues a few weeks after learning he had just months to live. Intended as a roadmap for his three young children, the talk included his insights on finding the good in other people, working hard to overcome obstacles and living generously.
Video of the lecture has been viewed by millions of people over the Internet and later was the basis for a book, "The Last Lecture," that became an international bestseller. He was the subject of an hour-long "ABC News Primetime" special and appeared twice on "The Oprah Winfrey Show."
ABC News declared him one of their three "Persons of the Year" for 2007 and "TIME Magazine" named him to its list of the world's 100 Most Influential People.
Related Links: Watch Video of the Memorial Service  |  Watch Randy's Lecture on YouTube  |  About Randy's Last Lecture  |  Download Randy's Lecture on iTunes U  |  Buy the Book
---