Spring Break Takes On New Flavor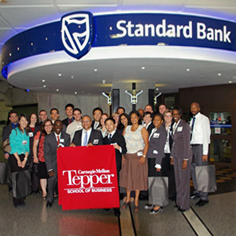 While many college students were planning spring break vacations in the Sunshine State, some grad students from Carnegie Mellon's Tepper School of Business and Heinz School of Public Policy and Management had another destination in mind.
Erren Lester (TPR '08) and Joseph Akpan (TPR '08) conceived of the idea for "Doing Business in South Africa," which was Tepper's first ever MBA trek to the African continent.
The 10-day excursion included a safari, nine company tours, executive panel discussions, visits to five non-governmental organizations (NGOs), and alumni networking events — all the result of hard work by the trip's planning committee made up entirely of grad students from the two schools.
Their primary goal was to expose students to the inner workings of an emerging economy as well as the issues facing South Africa as it rebuilds post-Apartheid.
"Even though we had never been to the country, we believed students could plan these types of trips to any location as long as they were willing to put in the hours," explained Lester, who co-chaired the trip's planning committee with Akpan.
Part of the focus was in meeting with multinational companies that are based in Africa, according to Akpan.
"We specifically focused on South African companies with global operations and those in the high-tech space," he said. "Basically, the goal was to focus on the success stories."
The committee built a network of executives in South Africa, organized activities, contacted alumni for receptions in Johannesburg and Cape Town, connected with other universities, identified and booked lodging, and found interesting NGOs to visit.
"The partnerships with the NGOs have led to benefits for each side," explained Jennifer Schaefer (HNZ '08). "Carnegie Mellon has made helpful contacts and gained access to information for research while the NGOs have gained access to a world-class university and its students."
The eight students on the planning committee agreed that this was a complex but rewarding effort.
According to Natalie Maddox (HNZ '08), "It was a lot of work, but it fostered a lot of friendships and international relationships."
In all, 26 students from the Tepper School of Business and the Heinz School of Public Policy and Management made the trek with a Heinz School faculty member.
The trip was partially sponsored by Stone Three Venture Technologies, a startup company in Cape Town that was founded by Carnegie Mellon alumnus Dr. David Weber (CIT '96).
"Carnegie Mellon is a truly open and collaborative place," noted Akpan. "I mean the fact we were able to do this with some funding and academic credit is a testament to the collaborative spirit of this place."
Related Links: Black Business Association  |  Tepper School  |  Heinz School  |  Alumni Website
---