Alum's Site is Key New Resource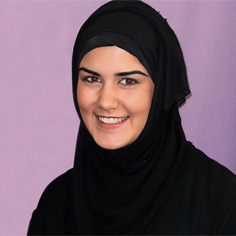 Growing up in Scotland, Jinanne Tabra (TPR '08) struggled to learn the Arabic language. Like many Arabs raised in non-Arab countries, she had limited access to Arabic books, games, toys and other learning materials. Now, with her new website ARABOH.com, she hopes to change that experience for future generations.
Tabra launched ARABOH.com while still in her senior year at Carnegie Mellon University's Tepper School of Business in Qatar. There, the award-winning student worked with Patrick McGinnis, Professor of Communications, to develop her logo, vision and mission, and George White, Ph.D., Professor of Entrepreneurship, on the proper way to go about her venture.
She contacted many publishing houses around the world and began hand picking more than 700 titles to carry. Books are categorized by age, making it easy to find language-learning resources for anyone from a preschooler to a senior citizen. Some books are solely in Arabic, while others are in English and Arabic, French and Arabic or all three. Books can be shipped anywhere in the world.

"We have everything from baby books to novels," she said. "We even have Shakespeare in Arabic." Since most of the publishing houses didn't have summaries of the books, Tabra had to read each book and write summaries in both English and Arabic.

McGuinness said, "We're so proud of our newly-minted Tepper grad with her first foray into eCommerce. We know that her Carnegie Mellon education will serve her well as she turns this important service into a successful business."

Tabra is in the process of developing a marketing strategy that will reach Arab communities around the globe. She plans on contacting organizations, schools and other groups that she can leverage to reach her audience.

The young entrepreneur credits her years as a business administration student at Carnegie Mellon's Qatar Campus for providing her with the skills necessary to bring her idea to fruition.

"The resources available at Carnegie Mellon were crucial in getting ARABOH.com up and running," she says. "I wouldn't have been able to do any of this four years ago. My education at Carnegie Mellon has equipped me to start my own business and fill a need I know is out there."

Tabra sums up her first business venture as a movement to keep Arabic heritage alive all over the world.

"ARABOH.com is about teaching our children to embrace their Arab pride. It's about giving the gift of the Arabic language to your family, to your friends and to the world."

To view the list of available books, visit www.araboh.com.
Related Links: ARABOH.com  |  Tepper School of Business  |  Carnegie Mellon in Qatar
---