Bridging Global Technology Divides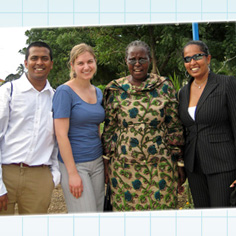 Only four years old, and TechBridgeWorld is already living up to its ambitious name. The brainchild of Carnegie Mellon's Bernardine Dias, this research group was conceived in the hope of innovating sustainable technology solutions to address needs around the world.
"I grew up in Sri Lanka, and have seen two worlds," explained Dias, an assistant research professor of robotics. "My main goal is to define the role of technology in the developing world, to identify the challenges, and to bring them to the attention of researchers in technology around the globe."
Recently, Dias and two staff members traveled to Africa to launch new projects in Zambia and explore potential partnerships in Tanzania. In Zambia, they worked directly with three local schools, introducing computerized English reading and braille writing tutors. While in Mongu, Zambia, they recognized a strong need for curriculum guides to teach students basic computer skills, and a new project was born on site.
Local partnerships are key to TechBridgeWorld's cooperative mission, allowing the team to address needs that are most meaningful to the communities themselves. Partners also aid in training local populations to sustain the technical solutions developed.
Dias elaborated, "Partnerships are crucial. We go in [to a community] with exploratory technology and nothing else. We don't try to tell people, 'here's what your vision should be.' The goal is to help them to see the power of technology and to achieve their vision using technology."
TechBridgeWorld is housed in the School of Computer Science's Robotics Institute, and researchers embrace a multidisciplinary approach. Students from across the university are encouraged to participate and come from departments as diverse as business, engineering and public policy.
Dias stresses the importance of this approach.
"One of the things students learn here is how to work with multidisciplinary teams," explained Dias. "Anthropologic aspects, history and culture all play an important role in how well any technology is going to be adopted in the community."
TechBridgeWorld provides opportunities for both graduate and undergraduate research.  Unlike other organizations of its kind, it offers undergraduate and graduate courses, seminars and many other opportunities to provide different avenues for students to learn about the new field of Information and Communication Technologies for Development.
"I want to have true impact in 20 years, to change the relevance and accessibility of computing technology. The best way I can do that is to get students involved, because they are the future," Dias said.
With Dias' strong dedication to furthering student research, additional funds would be "tremendous."
She added, "It would take TechBridgeWorld to an entirely different level. We would be able to impact so many more students and communities around the world. Right now, we get emails and calls from around the world asking for partnerships that we simply don't have the resources to get to."
Pictured: TechBridgeWorld faculty & staff with partner contact in Tanzania. (l to r) Freddie Dias from Carnegie Mellon; Sarah Belousov from Carnegie Mellon; Theresa Kaijage from the Institute of Social Work in Dar es Salaam; and M. Bernardine Dias from Carnegie Mellon.
 
Related Links: TechBridgeWorld  |  Robotics Institute
---