Sweeping the Clouds Away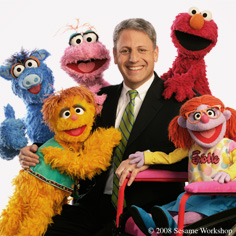 Young and old alike, Sesame Street has something to teach us all.
This year's International Festival gave the Carnegie Mellon community a chance to revisit the lessons of their youth through "Muppet Diplomacy: How Sesame Street is Changing Our World" — a keynote by Gary Knell, president and CEO of the Sesame Workshop.
The talk was part of a two-day festival — being held Oct. 10-11 at the University Center — focused on global learning in the 21st Century and featuring workshops, lectures, performances, food and films.
While Sesame Street started out as a small movement in the 1960s, it's grown to reach children in more than 140 countries, using the magnetic appeal of television to improve their lives. As the single largest informal educator of young children, local Sesame Street programs are created to focus on the unique educational needs within each country, such as the stigma around HIV/AIDS in South Africa, girls' education in Egypt, and respect and understanding in Northern Ireland.
Knell shared insight into how Sesame Workshop develops these programs, how they address local educational needs, and the impact they are making around the world. The keynote took place Friday at 12:30 p.m. in Rangos Ballroom.
Offering something for everyone, the 2008 International Festival includes an art gallery depicting global illiteracy, a book drive, lectures and presentations raising issues of global education, a global marketplace with food and crafts for sale and a Study Abroad fair highlighting Education Abroad opportunities for our students.
The festival closes with a musical performance by Etran Finatawa — a nomadic blues group from Niger — on Oct. 11 in Rangos Ballroom. Niger has a very rich cultural heritage, sitting at a desert crossroads between the Berber and Arab cultures of the North and the many sub-Saharan cultures of the South.
Etran Finatawa was formed as a band at the time of the 2004 Festival in the Desert near Timbuctou. The literal meaning of their name is 'the stars of tradition'. They are the first group to use the songs and music of the Wodaabe in a modern context. In Niger, their music has a cult following and their songs are sung by the young and school children all over the country.
Tickets to the musical performance are free and available at the University Center Information Desk.
Related Links: Learn More
---