The Campaign for Carnegie Mellon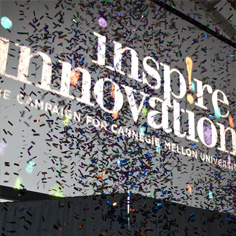 Friday, Oct. 24, 2008, marked the opening of a new chapter in Carnegie Mellon's future — the public phase of "Inspire Innovation: The Campaign for Carnegie Mellon University."
"Carnegie Mellon is one of the most imaginative and innovation-intensive universities in the world; a university that measures its excellence through its impact," said Jared L. Cohon, president of Carnegie Mellon. "This campaign has already enabled more innovation at Carnegie Mellon, and it will inspire more in the future."
With financial and non-financial goals, the campaign focuses on the comprehensive needs of the university. Key initiatives include: retaining and enhancing a world-class faculty; supporting a new generation of student innovators; sustaining a foundation of excellence; and enhancing an innovative environment.
Cohon noted that the initial phase of the campaign started in a time of near economic recession; yet the university has been able to raise more than half of its $1 billion goal.
"We know the current economic crisis does not change the world's needs for innovative solutions to urgent problems. If anything, we feel these needs more deeply than ever," explained Cohon. "Campaigns are for the long term and our campaign is about ensuring that we will be successful for centuries to come."
Started in July 2003, the campaign has already raised $550 million — supporting 132 endowed scholarships, 38 endowed fellowships and 17 endowed chairs for faculty.
The campaign is also aimed at growing and sustaining a vibrant university community that includes alumni, parents and friends, as well as students, faculty and staff.
The university plans to enhance its partnership with, and recognition of, its 75,000-plus alumni through enhanced communications, engagement activities, events and volunteer opportunities.
Raymond J. Lane, general partner of Kleiner Perkins Caufield & Byers, and a member of Carnegie Mellon's Board of Trustees, is chair of the campaign. He and his wife, Stephanie, recently endowed the Ray and Stephanie Lane Center for Computational Biology with a $5 million gift.
"I am honored to serve as chair of this historic campaign. Philanthropy is about making decisions today that will ensure a better outcome in the future. Investors recognize this, especially amid economic uncertainty. In times like this, investors make strategic decisions about what the future will bring by investing in the most promising ideas and innovation. Carnegie Mellon certainly delivers those big ideas," Lane said.
Related Links: Inspire Innovation  |  Watch Video  |  About the Campaign  |  Get Involved  |  Give Now  |  News Release
---