New Kind of Student Exchange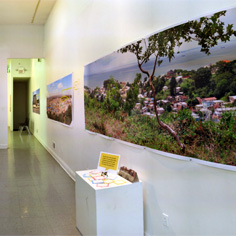 A 21st Century "pen pal" program — in which middle-school students in Pittsburgh, South Africa, Trinidad and Tobago exchange giant explorable digital images of their communities — was the focus of a recent exhibit on Pittsburgh's Northside.
Called "GigaPan Conversations," the event featured 20-foot-wide prints of panoramas created by the students using GigaPan — a robotic camera developed by Carnegie Mellon University and NASA.
The giant images can be shared and explored via computer, with each viewer able to zoom in on details of his or her choosing. The image exchanges prompt email conversations regarding the history, cultures, diets, languages and activities of each community.
Students at Falk Middle School in Oakland and the Manchester Craftsmen's Guild in Manchester have been creating GigaPans of their communities and exchanging them with students at Lavela High School in Soweto, South Africa, for several months.
"The technology is leading to some really interesting conversations and, we think, contributing to a deeper understanding of people who live an ocean away from each other," said Illah Nourbakhsh, an associate professor of robotics and co-principal investigator of Carnegie Mellon's Global Connection Project.
He added, "After six months, we've collected an enormous amount of material. It's time to celebrate what we have and give the larger public a chance to join in the conversations."
The students' ocean-spanning conversations regarding the panoramas were printed on the gallery walls and visitors were invited to join in by jotting down their own thoughts. A similar exhibit appeared earlier this year at MuseuMAfricA in Johannesburg, South Africa.
The program recently was expanded to Naparima Girls' School on Trinidad and Bishop's High School on Tobago. An exhibit of "GigaPan Conversations" is now on display at the University of Trinidad and Tobago's O'Meara campus atrium through Dec. 14.
The GigaPan School Exchange initially was funded by Google Inc. and was established in partnership with the United Nations Educational, Scientific and Cultural Organization's (UNESCO) Associated Schools Project Network. With funding from the Claude Worthington Benedum Foundation and the Pittsburgh Foundation, the School Exchange will soon include five more middle and high schools in Western Pennsylvania.
The School Exchange includes a curriculum that encourages students to explore certain themes, such as sports or food, and then share GigaPans with their peers in other countries.
"GigaPan represents the highest of high tech and we've taken it to some communities where even computers are rare," Nourbakhsh said. "The students are essentially becoming the pen pals of the technological age."
Images from the show were featured at the International Conference on Education in Geneva, Switzerland in November, where Nourbakhsh was a featured speaker. Sponsored by UNESCO's International Bureau of Education, the conference is a major education policy forum involving education ministers from 114 nations.
Based on software originally developed by NASA for assembling panoramas of the surface of Mars, GigaPan makes it possible for almost any digital camera to create digital images consisting of billions of pixels. The camera is attached to a robotic base, which then automatically snaps tens or hundreds of photos of a scene; special software then digitally stitches these photos together into one GigaPan panorama that can be explored with a computer.
Related Links: Blog: GigaPan Goes to the Ballgame  |  View CMU Memorabilia Using GigaPan  |  GigaPan.org  |  Robotics Institute  |  School of Computer Science
---