$1.1M Keck Grant for Research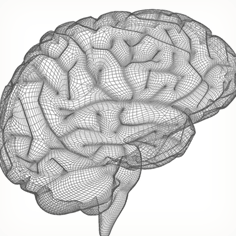 When you think about familiar things, like your gardening tools or the patio in your backyard, Carnegie Mellon scientists have a pretty good idea of what's happening inside your brain. But when you think about abstract things — like beauty or justice — they're not so sure. That may soon change.
Professors Marcel Just, a cognitive neuroscientist, and Tom M. Mitchell, a computer scientist, have received a $1.1 million, three-year grant from the W.M. Keck Foundation for their neuroscience research.
The funding will enable the Carnegie Mellon scientists and their colleagues to pursue new breakthroughs in the science of brain imaging. Ultimately, this research could shed light on brain disease or conditions like autism, dyslexia or depression.
"We've learned how the brain represents concepts that we describe by concrete words," said Mitchell, who heads the Machine Learning Department in Carnegie Mellon's School of Computer Science. "The next step is to learn how the brain thinks about abstract subjects, like art, beauty or truth. We will be looking at how the neural representation of these objects builds out of their component features."
Just, who directs the university's Center for Cognitive Brain Imaging, added, "We're starting to crack the brain's code for concept representations. We're looking at the content of thought."
The first phase of their research — funded in part by an earlier grant from the Keck Foundation and published Jan. 2 in the journal PLoS One — provided the building blocks for this new work.
Just and Mitchell will now seek to develop the first scientific theory ever conceived for producing testable, detailed predictions of how the brain will react to every concrete noun in common English, as well as many abstract nouns and verbs. They'll do this using functional magnetic resonance imaging (fMRI) scans that show where thought processes originate in the human brain.
The researchers point out that the advent of several relatively new technologies — brain imaging with MRI scanners, machine learning, the World Wide Web and analyses of computational linguistics — makes their goal possible.
"It is the convergence of these technologies at this time in history that make our goal feasible," Just said. "We are extremely grateful to the Keck Foundation for showing confidence in the value of our work."
Related Links: Machine Learning Department  |  Center for Cognitive Brain Imaging  |  W M Keck Foundation  |  School of Computer Science
---