University Receives $1.85M Grant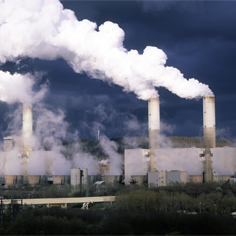 With a $1.85 million grant from the New York-based Doris Duke Charitable Foundation (DDCF), Carnegie Mellon's Granger Morgan will lead a team of investigators researching carbon dioxide issues. The team will work to develop and promote a regulatory structure for the safe and economical capture, transport and deep geological sequestration of CO2 in the United States.
"Getting the technology right is important," said Morgan. "But if the U.S. is going to put large quantities of CO2 underground, we need to be sure it is done in a safe and effective way."
Morgan and his colleagues note that CO2 can be removed from coal or natural gas in variety of ways before or after combustion. Once it is removed, it can be deposited deep underground in appropriate geological formations.
Most of the technologies for doing this exist today at commercial scale, but they have not yet been combined for power plants. The National Energy Technology Laboratory in Pittsburgh and Morgantown, W.Va., is supporting much of the research that is needed to make such processes commercially viable.
Morgan and his colleagues — from Carnegie Mellon, the University of Minnesota, the Vermont Law School and the Washington, D.C.-based energy law firm Van Ness Feldman — argue that before any definitive regulations can be developed, the United States must first get experience with several commercial-scale facilities.
For this reason, developing an "adaptive, two-stage" approach to regulation will be a key part of the new DDCF-supported project.
"This grant is further recognition of the great strength that Carnegie Mellon has built up in technically-focused work in energy policy," said Pradeep K. Khosla, dean of the College of Engineering at Carnegie Mellon.
Khosla added, "Previous work done by Carnegie Mellon's Ed Rubin and his colleagues on modeling carbon capture, by Jay Apt, Lester Lave and Paul Fischbeck on the electricity industry, and by investigators associated with our NSF-supported Center for Climate Decision Making, have laid the groundwork that makes us the obvious choice to do this kind of work."
The grant to Carnegie Mellon is part of a $100 million Climate Change Initiative created by the DDCF to develop new energy technologies that can help society reduce greenhouse gas emissions and create a cleaner economy.
"By focusing these grants on how energy technology innovation occurs and how it can be improved through better policy, the aim is to ensure that tomorrow's clean energy technologies emerge on an accelerated timeline," said Andrew Bowman, director of the DDCF's Climate Change Initiative.
Related Links: College of Engineering  |  Center for Climate Decision Making  |  Dept of Engineering & Public Policy
---