GE's Immelt Visits Campus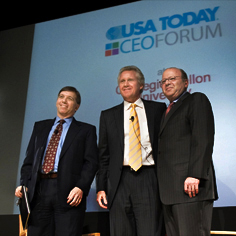 Carnegie Mellon's Tepper School of Business recently hosted Jeffrey Immelt — chairman and chief executive officer of General Electric — for a standing-room-only event.
Immelt was the featured speaker at the popular USA Today CEO Forum, brought to the campus by the student senate and the W.L. Mellon Speaker Series through the Tepper School.
Globalization emerged as the theme of Immelt's discussion, which covered topics ranging from the environmental impact of large business to the Hollywood writers' strike. Immelt first answered questions from USA Today senior media reporter David Lieberman, and then took questions from the audience.
"I've never seen a time in my career when the global economy is less related to the U.S. economy," Immelt said.
He also spoke about what qualities he believes are characteristic of a good leader — curiosity, people skills and perseverance — and the importance of tough-mindedness.
"You can't rest on the way things have always been done, even if that way has been extraordinarily successful," added Immelt. "[GE is] a company that always refreshes itself, and I think you have to be tough-minded about what fits and what doesn't."
The forum was held at the university's Pittsburgh campus following an invite by undergraduate business student Jared Itkowitz.
"One of my favorite things about Carnegie Mellon is that if the students have a vision, the university will do everything in its power to make it a reality," said Itkowtiz, who is also student senate chair.
The Tepper School of Business ranks consistently among the top business schools in the world. In 2007, the Wall Street Journal ranked the Tepper School #3 among the top MBA programs in the U.S., and its undergraduate program has been ranked a Top Ten business program by U.S. News & World Report for several consecutive years.
Photo (from left to right): David Lieberman, Jeffrey Immelt and Jared Cohon.
Related Links: Watch CEO Forum  |  Watch Interview with Jared Itkowitz  |  Tepper School of Business
---