No e-Wasted Opportunity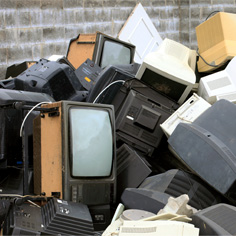 Tanaji Naik (HNZ '08) was horrified when he first learned of the problems e-waste was causing in his native India and other countries around the globe. As a Carnegie Mellon student in the Heinz School's Masters of Information Systems Management program, he maintained his commitment to help.
Naik quickly found himself in a group of like-minded friends from India, all searching for ways to make a difference in the world and help their home nation.
"We wanted to do something extra, something that makes an impact on society," explained Raja Balakrishnan (HNZ '08).
"Carnegie Mellon was the perfect environment where one could come up with an innovative solution to make this kind of impact," said Abhinav Raj (HNZ '08).
The team — which also included Deepti Madan (ETIM '08) — decided to enter the Heinz School's Social Innovation Business Plan competition, knowing exactly where they should focus their efforts.
They conceived 'ePanacea,' a venture aimed at solving the growing e-waste crisis. E-waste consists of discarded electronic equipment, like computer parts, cell phones and gaming devices. It contains toxic materials such as lead and mercury, and it's currently being dumped illegally in many places, often being rerouted to less industrialized nations. The e-waste is burned and thrown in landfills. Worse yet, in some third-world countries, children are used to retrieve its precious metals.
The ePanacea plan aims to gather all types of e-waste across the United States and recycle or discard it through legal, ethical business partnerships. The web-based company would allow clients to dispose of all types of e-waste, including bulky printers, while assuring them of secure cleaning and tracking.
ePanacea soon won the Heinz School's contest, and the team entered the TIC Americas competition held in Medellin, Colombia. Out of 854 entrants, they were recently named one of only 29 finalists.
The group also includes Ana Quintana (HNZ '08), who represented the team at the Colombia competition.
"We are all committed to making ePanacea a reality," said Madan. With her other team members having graduated in the spring, she'll also be shepherding the project on campus as she finishes her master's degree this fall.
They remain grateful for their time together in Pittsburgh.
As Naik summed up, "Never before in my life have I met so many smart minds in such a setting."
Related Links: Heinz School  |  Masters of Information Systems Management  |  Institute for Social Innovation  |  Engineering & Technology Innovation Management
---