Johnny Chung Lee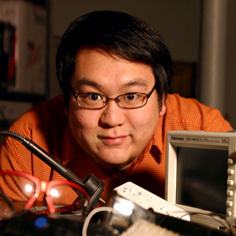 Johnny Lee (CS '08), an alumnus of Carnegie Mellon's Human-Computer Interaction Institute, needed a break from his dissertation. So he picked up his Wii Remote. And then he started a revolution.
Lee discovered a number of unique ways to use the inexpensive yet powerful Wiimote to do some amazing new things. In a series of down-to-earth YouTube videos, Lee demonstrated how to use the tool to finger-track (a la "Minority Report"), create an interactive white board, and most famously, perform head-tracking (which basically means turning your 2-D screen into a 3-D experience).
Within a week of posting, Lee's head-tracking video had been watched by 1 million people, and for five weeks was the the top rated YouTube video of all time. He garnered a standing ovation while performing his demonstrations live to a packed Technology, Entertainment & Design conference. And Newsweek recently featured him in their article "The Tom Sawyer of Innovation."
Pretty impressive for something Lee laughingly called "a procrastination project."

"I found a compelling way to share an idea," he explained, discussing the wide appeal of his presentations. "It's a powerful part of the research process. Sharing an idea the right way is just as important as doing the work itself."
 
Lee originally came to Carnegie Mellon at the urging of Randy Pausch, a research contact from Lee's time at University of Virginia. Drawn to the Human-Computer Interaction (HCI) Institute's focus on the relationship between people and technology, Lee applied to the institute — where he researched brain/computer interfaces, kinetic typography and projection technologies.

"I'm interested in a lot of different technologies and interactions, and only a small percentage of those are related to entertainment," he said.

Lee will be receiving his Ph.D. and leaving Carnegie Mellon soon — a bittersweet accomplishment.

"I had a fantastic graduate school experience here," Lee explained. "I don't think I could have done the diversity of work and the type of work anywhere else. ... It's a very unique environment. I'm sad to be leaving."
 
Related Links: Johnny Lee's Procrastineering Blog  |  Head-Tracking  |  HCII  |  Newsweek: The Tom Sawyer of Innovation  |  School of Computer Science
---