Driverless Vehicle Makes Its Debut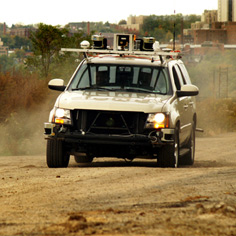 Carnegie Mellon's Tartan Racing Team welcomed guests Jan. 23 as they met "Boss," the modified Chevy Tahoe serving as the team's entry for the Department of Advanced Research Projects Agency's (DARPA) Urban Challenge.
The competition, Nov. 3, will require driverless vehicles to navigate a test course that resembles a city street.  In the short term, the experimental technology developed for the challenge could yield new devices that assist human drivers and improve highway safety.
"The biggest challenge will be to drive in traffic and stay on the road," said Chris Urmson, whose Tartan Racing team placed second and third in the last DARPA race. "It's a whole new level."

In partnership with General Motors Corp., Carnegie Mellon will enter the adapted Chevy Tahoe, which will be equipped with automated throttle, brakes and steering for computer control of physical motion.
Using only their computer brains and sensors, the autonomous vehicles will navigate a 60-mile course with sharp turns, traffic and obstacles, including trees, utility poles and other cars. The vehicles will also have to obey traffic laws, change lanes, merge with moving cars and pull into a parking lot.
DARPA will give $2 million, $1 million and $500,000 awards to the top three finishers that complete the course within the six-hour time limit. 

Related Links: Tartan Racing  |  Robotics Institute
---